Elderly fear for their futures
By Jiang Xueqing and Duan Yan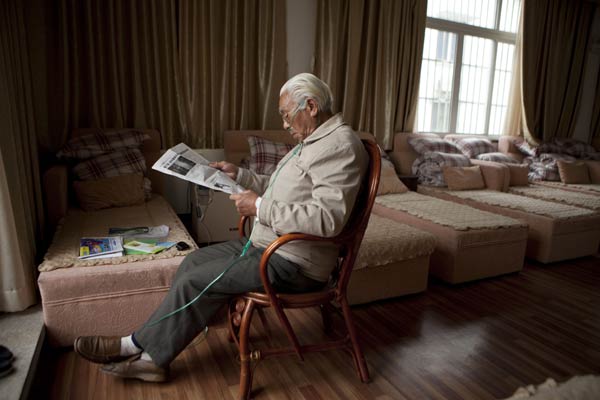 Li Wenda, 80, reads a paper while receiving oxygen at the Erlangxiang Community Rest Home in Suzhou, Jiangsu province. The facility provides a place for seniors to exercise, get their blood pressure checked and relax. The seniors only have to pay for meals. [Michael Paul Franklin / China Daily]
China's ageing population puts stress on families and people who provide healthcare services, report Jiang Xueqing and Duan Yan in Beijing.
Childless and ageing, Wang Yongquan and his wife are worried about their future. "Elderly couples like us need help with a lot of trivial matters," said the 74-year-old retiree. "I had pains on both sides of my lower back and couldn't move in bed the other day. If my wife were not around, I wouldn't even be able to get a cup of water."
China not only has the world's largest population with 1.37 billion people, its population is also ageing very quickly.
The number of Chinese aged 65 and above has now surpassed 118 million, accounting for 8.9 percent of the population, according to the latest census by the State Council. That is a significant increase from the year 2000, when there were 88 million people over 65, representing about 7 percent of the population. Beijing alone is home to 2.6 million people aged over 60, putting nursing homes and assisted care apartments at a premium.
For the time being, Wang is having a trial stay at a nursing home for the elderly in the Changping district of Beijing. For 1,500 yuan ($230) a month, he can stay in a nice single room without needing to cook or hire a housekeeper. But he has not made up his mind. If he moves there permanently, he will have to give up his old familiar downtown neighborhood, including the hospital, the bank around the corner and a bus station within three minutes' walk.
The other choice is to hire a housekeeper, but he is concerned about the credibility of someone unrelated to his family and doubts if he could entrust his bank account and password to a stranger.
Now and then he panics and calls friends and relatives. He even thought of committing suicide.
"As long as these real problems are not solved," he said, "my mental pressure will never disappear."
Last year, the British healthcare organization Bupa polled 12,262 people in 12 countries on their attitudes toward ageing and found almost one-third of Chinese respondents admitted they feel depressed when they think about getting old.
This could suggest why suicide rates among the elderly in urban areas have seen such a worrying increase in recent years.
According to Jing Jun, a sociology professor at Tsinghua University, the annual suicide rate among 70- to 74-year-olds surged to more than 33 for every 100,000 people between 2002 and 2008, up from an average of 13 in the 1990s.
The number is even higher in rural areas, where economic pressures and the migration of farmers to cities have weakened the social status of senior citizens. A 2008 study of villages in Hubei province by Huazhong University of Science and Technology found suicide "is a culture" in some villages, with the elderly often taking their own lives after family arguments or when they feel they can no longer work.
With feelings of insecurity on the rise, experts say families must prepare for the future, while the need for the government to create a better social security system is becoming urgent.
"We've had some good examples of privately-run nursing homes but the number of places is far from meeting the demand," said Zhong Changzheng, spokesman for the China National Committee on Ageing.
Some families are already experiencing the problem of elderly healthcare.
When Li Jinya's father was severely injured in a car accident last year, she said it was a shock to realize just how fragile the family structure has become.
"It's lucky my mother is helping to take care of my son," said the 24-year-old, who is juggling the family's grocery store in Beijing's Chaoyang district with caring for her hospitalized father.
"Sometimes I fear that if my parents died, I would be left alone in the world," she said, her eyes turning red.
Her husband Wang Xiaobo, 25, is studying for a post-graduate degree in Hefei, capital of Anhui province, and can only return for short periods.
"He fell asleep at the hospital when he was taking care of my dad," Li complained. "I know he is tired - I'm tired too - but this is my father's life we're talking about."
Policymakers are encouraging diversified services for the elderly, Zhong said, as well as advocating a change in attitudes toward placing relatives in nursing homes, which at the moment is seen as an "undutiful act".
Traditionally, Chinese people are expected to care for their parents in later life. Yet, the fact families are shrinking and people are living longer means younger generations and China's elderly care services face immense pressure in coming years.
"There's no one to take care of me when my children go to work during the day and the daycare center offers a solution. I made a lot of friends here and no longer feel lonely," said 77-year-old Zhang Juliang while he was celebrating the Double Ninth Festival, a traditional Chinese holiday for the elderly, with more than 20 other seniors at the Leling daycare center in Jiangning community of Jing'an district in Shanghai.
Having come to the center every day since it opened in June 2009, Zhang and other local residents over 60 years old were offered two meals, daily physical checks and various group activities including singing, dancing and movies.
As the most ageing city in China, Shanghai took the initiative to integrate social forces into the service system construction for the elderly. Private enterprises and non-governmental organizations play a significant role in providing services to senior citizens under the leadership and guidance of the local government.
About 7 percent of the elderly in Shanghai receive community support, according to Ni Hui, director of the Putuo district civil affairs bureau in Shanghai. In Putuo district alone, elderly people account for 23 percent of the 860,000 residents with household registration in 2009. Among the institutions providing care services for the elderly in the district, 45 percent are run by social organizations.
"The demands of the elderly are diversified, but the government can only take care of the most basic," said Ni. "With the help of social forces acting as service providers and the government as plan maker and supervisor, seniors receive much better and comprehensive services."