DALIAN, Liaoning - Among the Chinese, few know that Wednesday is International Guide Dog Day.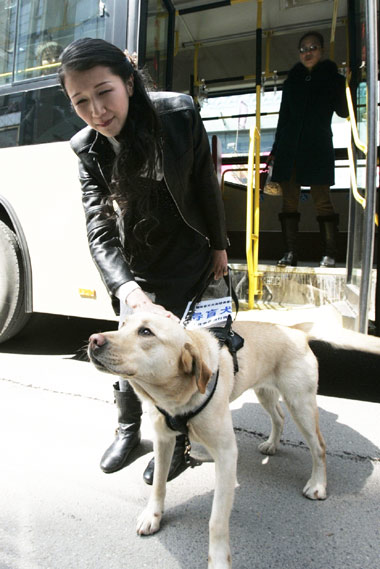 Lin Yan, 27, pets her guide dog Sherry to thank it for guiding her on and off a bus in Shenyang, Liaoning province. [Provided to China Daily]
Lin Yan, a 27-year-old woman, did not know it either, even though she had lost her eyesight 15 years ago in a failed operation meant to correct her myopia. Then Sherry entered her life.
Sherry, a yellow Labrador that arrived on April 18, 2010, now serves as a guide dog for Lin, who runs two blind massage parlors in Shenyang, capital city of Northeast China's Liaoning province.
For about a week, Lin and her friends have been getting ready to celebrate International Guide Dog Day as a way of thanking Sherry, who has brought Lin many conveniences and joys in the past year.
"Sherry is my eyes," Lin told China Daily. "With her assistance, I have become more connected with the outside world, as well as willing to connect with it."
Lin said she was reluctant for a long time to go out after she had lost her eyesight. When she had something to do outside her home, she would ask her mother to escort her arm in arm to hide her blindness from others.
Sherry has changed that.
"With Sherry, I went out without my mom for the first time last April," Lin said. "I was very anxious at first, but Sherry made me feel relaxed. She warned me about stairs, crossroads and other obstacles."
Lin has got used to having Sherry lead the way on the two-kilometer walks she takes from home to work every morning. And when Lin wants to take a bus to a supermarket, Sherry also acts as a guide then.
Lin said she wasn't aware that guide dogs existed until 2006, when she accidentally saw a Japanese film titled Quill. The film was made to resemble a documentary about a guide dog and deeply impressed her, so much so that she found herself wanting to have her own guide dog.
Two years later, she learned that a professor of zoology at Dalian Medical University, named Wang Jingyu, was leading China's first guide dog training center. Lin applied to the center for a dog and was approved to receive one in 2010.
Lin met Sherry that March. After spending another 20 days in the center training with Sherry, Lin brought the dog home.
Securing that boon cost Lin nothing. The center provides guide dogs to people who need them free of charge.
But that's not to say having a guide dog isn't expensive. To take care of Sherry, Lin must spend 1,000 yuan ($153) a month on food, healthcare and other necessities.
Some people have told Lin that she could pay the same amount of money for a person to help her, rather than a dog.
Lin replies that she prefers Sherry.
"To some extent, a dog is more reliable than a person," she said. "She protects my privacy. She doesn't care if I am rich or poor, sick or healthy. She will not betray me."
Lin said she is lucky that she has Sherry. Few of the blind in China can claim to be so fortunate.
Throughout the world, more than 20,000 guide dogs are now helping sufferers from various sorts of visual impairments. The guide dog training center at Dalian Medical University has raised 21 guide dogs since being established in 2006.
Wang said that it takes the training center about 120,000 yuan to train a guide dog in China. Half of that money comes from the government and the rest from the center and donations.
To be made into a guide dog, a puppy - usually a Labrador or golden retriever - is often sent to a foster family when it is 40 days old and is kept with that family until it is one year old.
If it holds promise of becoming a good guide dog, it will undergo a year of training program at the center. A month of that is spent with a potential user and, if that goes well, the dog is graduated.
According to Wang, the center is now training 48 dogs and has placed another 41 with foster families.
"Foster families are great and selfless," said Lin, who has established a close friendship with Sun Yueyang, who fostered Sherry in Dalian.
"I cannot imagine how they feel when they have to send a lovely puppy back to the center. I am extremely grateful to the family that raised Sherry."