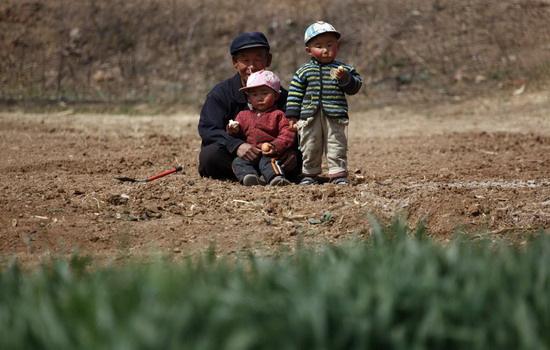 A farmer sits with his twin grandsons in the middle of a field where he is planting crops on the outskirts of the city of Zhuhanzhen in Shandong Province April 21, 2011. [Photo/Agencies]
ZHUCHENG, China - The fertile fields of this corner of eastern China are an unlikely microcosm of the national economy. There is not a power plant or factory in sight. Yet the area encapsulates as well as any industrial city some of the forces that are reshaping the country.
People grumble about rising prices, adding weight to the authorities' concern that inflation could spark unrest. Protests by some 2,000 truckers in Shanghai over high fuel prices briefly turned violent last week. 
The virtual absence of any farmers under 40 speaks to China's urbanisation. Youngsters decamp as soon as they can to work in towns near and far, leaving their ageing parents to till the soil.
With the rural labour pool shrinking, wages are rising.
A cheery woman about 50 tending a potato field said she earns 40 yuan ($6.15) a day. It's not a king's ransom, but it's nearly twice as much as she was getting three years ago. At the side of the field stands her electric bike, a must-have for those with money to spare for the first time.
That she is labouring on someone else's land points up another phenomenon sweeping China: many households are leasing out their smallholdings, resulting in bigger, more productive farms.
Farmer Li Tiejun said a peasant could earn as much in a month at a factory -- about 2,000 yuan -- as he could in a year harvesting 2 mu of grain.
"There'll be more and more big farms because all the young people are leaving and no one wants to farm any more," said Li, who works 60 mu of land -- about 4 hectares or 10 acres.
That would be a rounding error for many farms in the United States, but it dwarfs the average plot in China. In 2009, rural households managed just 2.26 mu of land per person, according to official data.  
GROWING WEALTH
Consolidation of land took off around Zhucheng, a thriving town in Shandong province, in 2007. Locals typically transfer their holdings on 10-year renewable leases for which they get 400 yuan a mu per year.
In one township alone, there are 30 farmers with more than 100 mu of land, according to tobacco grower Zhu Shumei. She and her husband farm 300 mu of land and made about 100,000 yuan in 2010.
Nationwide, per capita rural incomes after inflation rose 14.3 percent in the first quarter from a year earlier, double the increase in urban disposable income, thanks to higher farm prices and bigger remittances by migrant workers.
In short, China's vast rural economy, home to over 700 million people, seems to be doing well. But urban China is doing much better, and the resulting inequality is a nagging concern for the ruling Communist Party.
"In some regions, we have seen encouraging signs that farmers' incomes are rising quickly, but that doesn't mean the nationwide urban-rural wealth gap is narrowing," said Su Hainan with the China Association for Labour Studies, a government think tank.
Incomes in China's cities are three to four times higher than in the countryside, and Su said achieving a noticeably fairer distribution could take one or two decades.
"What the government is trying to do now is to stop or at least slow the deterioration," he said.
The chasm between town and country is part of a broader pattern of inequality, which, as measured by the Gini Coefficient, has increased to around 0.48 from 0.16 in 1978. The figure would be zero if wealth were perfectly shared out and 1.0 if it were in one person's hands.
Li Shi, an economist at Beijing Normal University and a prominent expert on the issue, said survey samples undercount poor rural migrants and the wealth of China's elite. He put the true Gini Coefficient at 0.53.
"Although these estimates may still have some room for improvement, our findings nonetheless show that China's levels of income disparity have already reached alarming levels, and that they continue to grow," Li and his co-author, Luo Chuliang, wrote in China's Economic Research Journal.  
RECIPE FOR TENSION
While scores of millions of Chinese still live in poverty, the ranks of the super-rich with wealth of at least 10 million yuan are bulging.
The Hurun Wealth Report 2011 estimated their numbers at 960,000; a survey by global consultants Bain & Co and China Merchants Bank said the total would reach 590,000 this year, nearly twice as many as in 2008. 
Aware the risks of social unrests simmering in glaring inequality, Beijing is raising minimum wages, spending more on social security and is planning to take more lower-income people out of the income tax net.
But Yolanda Fernandez-Lommen, an Asian Development Bank economist in Beijing, said the proposed reforms were too timid to affect the share-out of income.
To make a difference, China should rely less on regressive indirect taxation, start taxing capital gains and introduce inheritance taxes, Fernandez-Lommen said.
"Given the irrationality of the taxation/fiscal system, there is no way the income gap could be closed any time soon," she said.
In places like the countryside around Zhucheng, that spells a growing risk of flare-ups. A rising tide is lifting all boats for now, but Shi Xiongmin, who leases 50 mu of corn and wheat, hinted at an undercurrent of mutual resentment.
Speaking of neighbouring farmers who have stuck with their small holdings, Shi said, "They're very jealous, but they couldn't make money if they tried."