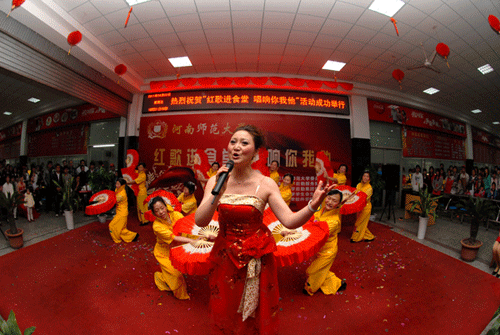 Teacher Yuan Xiaoli sings a song at Henan Normal University
Henan Normal University launched a red song competition on April 22, 2011 at one of its canteens to commemorate the 90th anniversary of the CPC's founding, dahe.cn reported Monday.
In the next two months, people dining at the canteen will be able to appreciate about 100 red songs performed for the competition sponsored by the university's logistics department and the student union.
"Red songs have special educational functions. Singing them is a new way to educate young students on the knowledge and spirit of the Party. Institutes of higher education should become a main front to advocate red songs," said Peng Fuqi, Party secretary of the university's logistics department.
Teams from 17 schools will participate in the contest, and nine of those teams will enter the final to compete for The Star of Red Songs.