BEIJING - China is aiming to become the most popular destination in Asia among international students, said State Councilor Liu Yandong.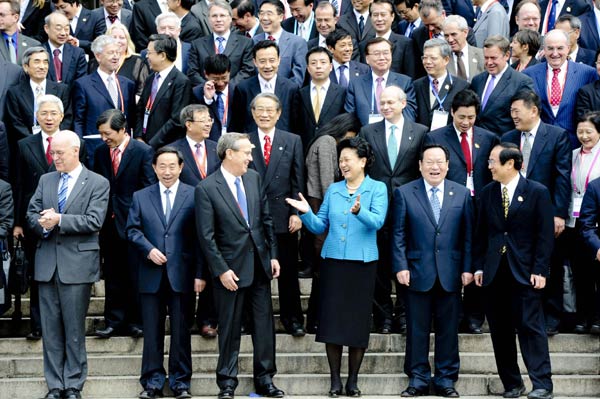 State Councilor Liu Yandong (center right) attends the Global Summit of University Presidents and the Association of Pacific Rim Universities' 15th Annual Presidents Meeting at Tsinghua University on Saturday, where she delivered a keynote speech.  [Photo/China News Service]
She made the remarks on Saturday at the Global Summit of University Presidents and the Association of Pacific Rim Universities' 15th Annual Presidents Meeting. The gathering was held at Tsinghua University and was one of many activities held to celebrate the university's centenary.
Liu, who is an alumna of Tsinghua University, said that to achieve the goal, China is expanding the number of students it sends to study overseas and the number of international students who come to China through cooperative educational programs with the United States and the Association of Southeast Asian Nations. The government will increase the number and size of scholarships to attract more foreign students, she said.
The Ministry of Education said earlier this year that the country plans to use cooperative educational programs to draw 500,000 foreign students to China by 2020.
The number of US students in China is set to become one of the largest, with Beijing and Washington working together to bring 100,000 to China during the next four years.
Beijing will provide 10,000 more scholarships to students from the US to study in China, Liu said earlier this month during a visit to Washington.
The central government provided 800 million yuan ($123 million) in scholarships to such students in 2010 and local governments offered about 110 million yuan in scholarships, according to Zhang Xiuqin, director of the department of international cooperation and exchange under the Ministry of Education.
The government's scholarships benefited 22,390 international students last year, 22.7 percent more than in 2009.
As a result, the number of foreign students in China has risen dramatically, hitting a record high of more than 260,000 in 2010, according to the latest statistics released by the ministry.
Liu also said at the summit, which has attracted the presidents of more than 130 universities from 35 countries, that China will adopt a "zero tolerance" attitude toward academic plagiarism at universities. She made the comment amid growing criticism of the country's academic integrity.
"Universities should inherit a humanistic spirit and become pure places for the scientific spirit," she said.
Chinese students have the advantage of being "hard working" and have a "solid foundation of knowledge" but are weak in "creative ability" and "practical ability", she contended.
"We should encourage students to think independently, have great expectations and be indifferent to fame and wealth," she said on Saturday.
China's top science and technology official also poured scorn on research frauds and those who engage in academic plagiarism during an earlier interview with China Daily.
"We will set up a mechanism to facilitate supervision over research programs and dig up the past of those researchers who fake their work and punish it," said Wan Gang, the minister of science and technology.