Related video:
Tsinghua in her students' eyes
Dancing for 50 years at Tsinghua
Hu stresses importance of quality, innovation as he praises institute's achievements
BEIJING - Institutions of higher education should place quality at the top of their agenda and enhance innovation and research, President Hu Jintao said as Tsinghua University marked its centennial on Sunday.
Hu extended congratulations and greetings to Tsinghua's students, faculty and alumni in his speech during the celebration marking 100 years of higher learning.
Hu praised the university's cultural traditions, history and contribution to the nation and noted its efforts to continuously improve the quality of its education.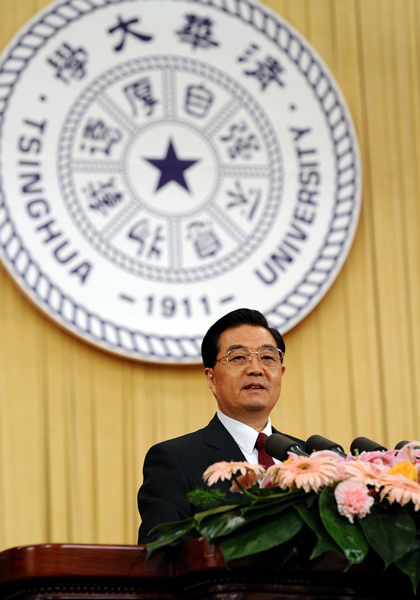 Chinese President Hu Jintao addresses a convention marking the centennial anniversary of the founding of Tsinghua University in Beijing, April 24, 2011. [Photo/Xinhua]
Related readings:


 Tsinghua University marks centennial anniversary


 Tsinghua helps sprinter Hu get on track


 Tsinghua's far-flung sons and daughters


 Tsinghua to celebrate centennial anniversary
He also called on students to be ambitious and diligent and strive to build a brilliant future for the nation. He said the country's building of socialist modernization is providing youth with great opportunities to explore and display their talent.
"The overall quality of the entire country's higher education should also be promoted, as education is a fundamental element for the sound and rapid development of China's economy and society," Hu said.
Efforts should also be made to foster the all-round development of students and universities should enhance their innovative and research capability, he said.
"I hope that young students in China strive to develop both their academic and moral excellence, their innovative minds and hands-on experiences, and to combine their all-round development with their individual specialties," Hu said.
He also urged educators to follow professional ethics, and encouraged students to maintain their individuality by thinking independently.
Addressing concerns over the education budget, which some claim is insufficient, Hu said: "The government should increase investment in education, and encourage more non-government sectors to become involved in the development of education."
Hu delivered the speech at the Great Hall of the People in Beijing.
Peking University President Zhou Qifeng and Yale University President Richard C. Levin presented congratulations as representatives from domestic and foreign universities.
A delegation from the Tsing Hua University in Taiwan's Hsinchu city also attended the celebration in Beijing.
Originally founded in 1911 as a training school for students aiming to study abroad, Tsinghua University is one of the country's prime institutions of higher learning. It has fostered many outstanding scholars, successful entrepreneurs and distinguished statesmen.
It has more than 170,000 alumni, who have made a significant contribution to the development of the country, across a number of fields.
President Hu was a student at the Department of Hydraulic Engineering at Tsinghua University in 1959 and was a postgraduate and political instructor at the department from 1964 to 1965. He also participated in research and development work at the department before he went to work at Liujia Gorge Engineering Bureau in Gansu province in 1968.
Tsinghua's alumni also include Wu Bangguo, chairman of the Standing Committee of the National People's Congress, Vice-President Xi Jinping, and former premier Zhu Rongji.
Many renowned scientists are also Tsinghua alumni. One-fourth of the members of the Chinese Academy of Sciences graduated from the university as did one-fifth of the members of the Chinese Academy of Engineering.
However, Tsinghua has faced criticism in recent years for its "utilitarian" approach.
"Tsinghua has a good reputation regarding university rankings and papers published, but it may be some time before it has the soul of a first-rate world university," Xiong Bingqi, an education commentator and deputy director of the NGO 21st Century Education Research Institute, said.
China is on course to overtake the United States in scientific output possibly as soon as 2013 - far earlier than expected, according to a major study published in March by the Royal Society, Britain's national science academy.
However, the study points out that a growing volume of research publications does not necessarily mean an increase in quality.
One key indicator of the value of any research is the number of times it is quoted by other scientists in their work. Although China has risen in the "citation" rankings, its performance in this measure lags behind its investment and publication rate.
"The world-renowned scientist Qian Xuesen, who contributed significantly to China's missile and space program, once raised a question which still hasn't been satisfactorily answered: Why can't schools in China cultivate outstanding talent? Tsinghua should use the coming 10 years to think about this question," Xiong said.
"The current education mode has seriously hindered students' creative ability," said Shi Yigong, dean of Tsinghua's School of Life Sciences.
But educators said that Hu's centennial speech gave them "hope".
"I became a student at Tsinghua in 1946 when I was a youngster with a strong sense of social responsibility," said Wu Liangyong, an academic at the Chinese Academy of Sciences and the Chinese Academy of Engineering. "Today Tsinghua's students should be concerned about their responsibility for the future."
"Universities are organized differently and follow different administrative procedures in different countries," Gu Binglin, president of Tsinghua, said on Saturday.
"Globalization reshapes the world. Universities in a developing country such as Tsinghua should act as the guardians of social values and cultural heritage," he said. "People of Tsinghua believe actions speak louder than words."
Xinhua contributed to this story.