Buyers may be prompted to turn to domestic sources for cheaper fuel
BEIJING - The high international price of coal will hit Chinese demand for imports, as consumers turn to cheaper, domestically produced coal.
Imports fell by 26 percent in the first quarter of 2011 on a year-on-year basis, the National Energy Administration (NEA) said on Friday.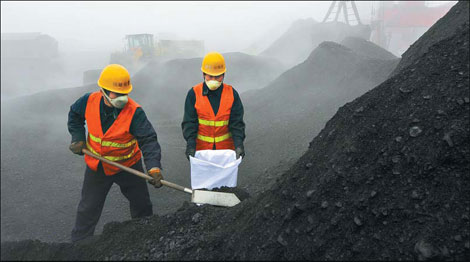 Officials take samples of imported coal at Rizhao Port in Shandong province. [Photo/China Daily]
China imported 32.4 million tons of coal in the first quarter of the year, 26.4 percent less than in the same period in 2010.
The international coal price had increased to $120 a ton by March 31 from $90 a ton in the same period last year, boosted by strong demand from reconstruction projects in Japan after the March 11 earthquake, and the diminished supply from Australia in the wake of widespread flooding late last year.
Meanwhile, the domestic coal price soared to its highest level in the three months between December and March. The rise was partly because of the resumption of operations by industries that consume large amounts of energy. Their activities were suspended last year in a move to meet government energy-saving targets, according to a research note from China Investment Consulting.
However, the domestic coal production capacity is expected to grow after consolidation in some provinces has been completed, the NEA said in its quarterly briefing.
Related readings:


 Coal imports likely to decline as prices soar


 High int'l prices unlikely to deter coal imports


 Test results in success for coal mine shelter


 Shanxi coal mine rescue chamber tested

Following Shanxi province, the country's major coal producer, which has successfully restructured its coal industry, the other coal-rich regions will also push for further consolidation: the provinces of Shandong, Shaanxi and Guizhou, and the Inner Mongolia autonomous region, with mergers and restructuring to begin later this year.
Shaanxi province is expected to scale back the number of coal mining enterprises by 80 percent - from 522 to 120 - while the Inner Mongolia autonomous region has set its minimum capacity at 1.2 million tons for local miners.
China plans to form 10 large-scale companies, each with a production capacity of 100 million tons in the next five years, and they are expected to account for 90 percent of the country's total output.
"Coal miners should increase production capacity to ensure a stable supply while the power-generation companies should beef up their inventories," said Wang Siqiang, a senior official at the NEA.
"Trans-regional electricity distribution is also being encouraged," Wang added.
China's electricity consumption is expected to grow by as much as 12 percent year-on-year in 2011 to 4.69 trillion kilowatt hours, while newly installed capacity may reach 80 gigawatts, the NEA said.
According to the China Electricity Council, coal demand in the power sector will reach 1.92 billion tons in 2011, an increase of 9.9 percent.
China imported 146 million tons of coal in 2010, 42 percent more than in the previous year.