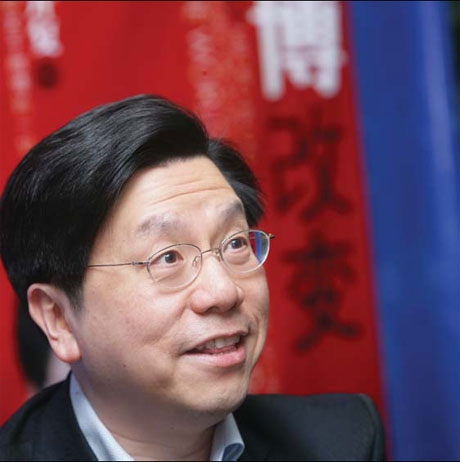 Lee Kai-fu at the release of his book Weibo Changes Everything in Beijing in February. Gao Zhixing / For China Daily 
"If a fake Kaifulee could enjoy such popularity, I thought that I should micro blog myself for more influence," says Lee, who later verified his account and posted a message saying "Dear impostor Kaifulee, you pretended to be me for three months. You've been reasonable, but with the Reuters' coverage, I had to get my name back."
An experienced micro-blogger now, Lee was invited to give a speech at the first China Weibo Developer Conference 2010. Lee named his latest book, Weibo Changes Everything, in which he has predicted the end of WAP era, and the coming of the new age of Mobile Internet, embodied by weibo.
"Weibo's social networking function is further enhanced by external applications, like those found on compatible mobile phones that can read, receive and send micro blogs," says Yang Guobin.
A recent report by Sina shows that nearly 36.6 percent of their weibo users log onto the service with their mobile phones. Over 43 percent of such users are women and they account for nearly 65 percent of the active weibo accounts.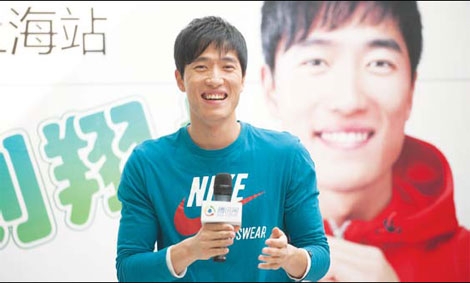 Liu Xiang, the 2004 Olympic 110-meter hurdle champion, meets with his followers at Tencent Weibo on Jan 22 in Shanghai. Guan Kaiji / For China Daily 
"The level of stickiness and salience on the micro blog sphere is beyond any other forms of media," says Liu from Ogilvy.
"With the advent of weibo, one can immediately feel that social network sites like Kaixin001.com are losing their sheen. I used to visit Kaixin every day, but now I visit the site only once or twice a week. But for weibo, it's a different story. I can publish a microblog in a restaurant, at bedside, on the subway... It can be anywhere, any time. It is said some real fans would publish a micro blog even when they go to the toilet."
"They (weibo) can help us find those with similar interests instantly and build a network through information sharing," says Elli Li, a business development representative with Bianfeng.com, a leading online gaming company in China.
"In the social network system (SNS) of weibo, the clearer one is about what his or her interests are, the more effective the process of information gathering will be. For example, once I wanted to buy certain cosmetics products online and my followers immediately told me to go to a global purchasing website. That helped me save nearly $80 (56 euros).