Relationship with child's spouse can end in tears, reports Zhou Wenting.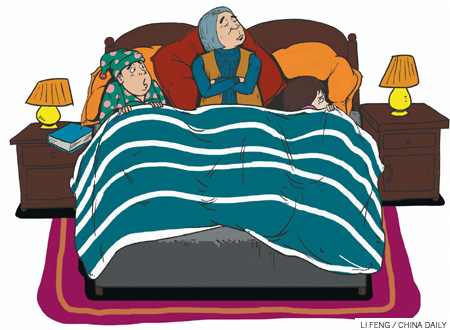 Yi Jun had a bitter quarrel with her mother-in-law. The harsh words exchanged extinguished the joy of her pregnancy.
"She said she doesn't want her grandchild to have single-edged eyelids like mine. None of my elders have humiliated me so severely since childhood," said Yi, a 27-year-old Beijing native. She is one of the post-1980 generation, the first children born under the country's family planning policy.
In-law relationships have become trickier in China as "the spoiled kings and queens" married. The inability of young women to take care of themselves and their swelling individualism challenge the patience of mothers-in-law, while the latter's concentrated care for their sons annoys and isolates daughters-in-law.
According to divorce lawyers, the in-law relationship is a major cause for the high divorce rate of the post-1980 generation. Last year, 1.96 million couples applied for divorce, and the divorce rate has risen by an average of 7.6 percent a year since 2003, figures released by the Ministry of Civil Affairs show.
Greater understanding is needed in this complex relationship to help ease tension, experts in family affairs say.
Traditionally, after a woman married, she became part of the husband's family and lived with them. Men did not leave their parents' home, so a bride lived with her parents-in-law and even grandparents-in-law.
"Influenced by the feudal ethical code, a daughter-in-law always had a subordinate status in a Chinese family," said Gu Xiuqin, secretary-general of the China Association of Social Workers' marriage and family affairs committee.
"Chinese women used to have a strong sense of 'double parents'. Before marriage, a bride's mother would tell the daughter to treat the parents-in-law even better than her own parents," Gu said.
So when a bride began her life in the husband's family, she lowered herself, tried to adapt to the new extended family and followed her own mother's example - what she saw in childhood - to serve her husband, the parents-in-law, and her husband's grandparents and siblings.
But the traditional practice does not seem to work today. First, an only child is used to receiving care and services rather than to giving.
Seven years ago, before Zhou Yanli's marriage, her mother told her mother-in-law, "My only daughter grew up in a honeypot. She doesn't do housework. Please excuse her."
As expected, Zhou, a 30-year-old Shanghai native, never once took up a rag or mop. Two weeks ago, when her mother-in-law went to a neighboring province to sweep tombs for three days, Zhou did not even know how to brush her 3-year-old daughter's teeth, do up her pigtails or to make her own bed.
"I don't care that my daughter-in-law doesn't do chores, but I can't help getting mad at her slovenly habits, which undermine the fruit of my labor ceaselessly," said Zhou's 55-year-old mother-in-law, surnamed Xu.
When Xu said that Zhou was unlike any other daughter-in-law she had met, a conflict was inescapable.
What they were taught
If the habits of the spoiled set relationships to simmering, their swelling individualism pours oil on the flames.
Three months ago, Song Yun and her mother-in-law ended in a deadlock when discussing the name of Song's newborn boy. Song did not like the name her mother-in-law chose. She won the fight by writing the name she preferred on the birth certificate during hospital discharge procedures.
"I admit it is difficult for me to compromise, for nobody has ever controlled my decisions," said Song, 25, who works for a Shanghai headhunter agency. "Sometimes even if I nod in the face of my mother-in-law, I won't actually carry it out."
Experts in family affairs said the young generation should not suffer all the blame, for they were educated only to achieve success, not to give care and manage relationships.
"The only-child generation is exempted from all the housework by parents so that they can grab every minute to study and stand out in the fierce competition for schools and jobs," Gu, of the social workers group, said. "It is understandable that they are weak in living habits and handling relationships."
Tension is also caused by the disappearance of traditional norms of a woman's submission and virtue, which suppressed the conflict of in-law relationships, said Yi Shenghua, a lawyer at Beijing Yingke Law Firm. "The education that women receive today endows them with more individuality than ever."
That does not mean they can always be mommy's girls, and stay as self-willed as they were with their own parents.
"They have to change their mentality and adjust their positions in the new family," said Xia Xueluan, a sociology professor at Peking University. "Although young women are no longer at the beck and call of parents-in-law, they have to acknowledge the seniors' authority and at least take action to show respect."