BEIJING - China's central bank said on Tuesday it had signed a $106 million currency swap agreement with the Central Bank of the Republic of Uzbekistan, as Uzbek President Islam Karimov kicked off his China visit.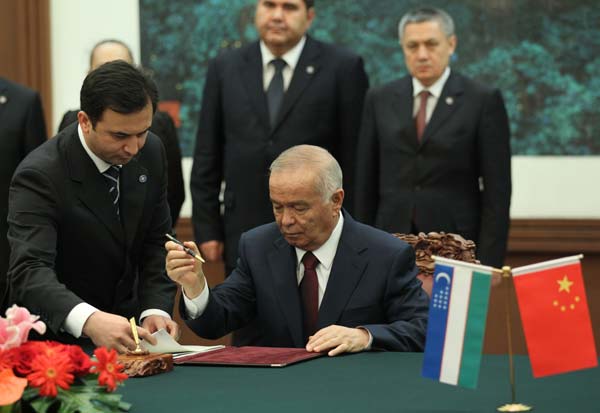 Uzbek President Islam Karimov signs an agreement after meeting President Hu Jintao at the Great Hall of the People in Beijing on Tuesday. [Wu Zhiyi / China Daily]
The People's Bank of China (PBOC) said in a statement on its website that the agreement will last for three years and can be extended by mutual consent. The swap is aimed at promoting bilateral trade, investment and financial cooperation, it said.
Uzebekistan's national news agency UZA said in a report on Monday that overcoming the impact of the global financial crisis had become one of the important aspects of cooperation with China.
"In order to solve this problem, Uzbekistan and China are paying particular attention to expanding trade, economic, investment and financial cooperation," it said.
Analysts said the move would help promote cross-border trade settlements in the Chinese yuan.
Related readings:

 Chinese, Uzbek presidents sign joint statement

 Chinese, Turkmen, Kazakh, Uzbek presidents unveil gas pipeline


 More Uzbek students remaining in China


 Chinese President meets Uzbek counterpart
The deal came one day after the signing of a 25-billion-yuan ($3.83 billion) currency swap agreement between the PBOC and the Reserve Bank of New Zealand. China has signed such agreements with South Korea, Malaysia, Belarus, Indonesia, Argentina, Iceland and Singapore since the financial crisis broke out in 2008.
The central bank also signed a similar agreement with Hong Kong's monetary authority.
President Hu Jintao and Uzbek President Karimov agreed in their hour-long talks at the Great Hall of the People on Tuesday afternoon to promote cooperation in areas ranging from energy and transportation to telecommunications, according to a press release from the Foreign Ministry.
They vowed to continue joint efforts to combat the East Turkistan Islamic Movement (ETIM) and the three evil forces of terrorism, separatism and extremism in order to safeguard regional security.
ETIM led the July 5 riots in the Xinjiang Uygur autonomous region in 2009, which left at least 197 people dead and more than 1,700 injured.
Some members of ETIM, named as a terrorist group by the United Nations, have reportedly fled to other countries in central and south Asia.
Karimov told Hu that Tashkent is "deeply satisfied" with relations with Beijing, which he said is a "reliable partner" of Uzbekistan.
China ranks first among countries investing in Uzbekistan and second among Uzbekistan's trade partners. The volume of bilateral trade in 2010 was $2.85 billion.
The two heads of state signed a joint communiqu after the talks, and officiated at the signing ceremony of eight cooperation documents on areas including energy, trade and technology.
Karimov arrived in the Chinese capital on Tuesday, starting his two-day state visit here.
Xinhua contributed to this story.
China Daily