BEIJING - Rare-earth prices will continue to climb, experts say, because of the stricter environmental standards that producers will have to meet by Aug 1, and document in applications they submit for environmental review.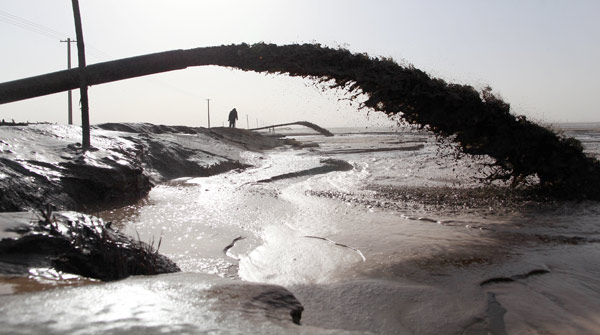 Polluted water discharged by a small rare-earth mining company in rural Baotou, in the Inner Mongolia autonomous region. China has seen environmental damage from mining and processing, and depletion of the resource. [Weng Huan / for China Daily]
Miners and processing companies that don't submit applications or fail to pass the review will be denied environmental assessment approval for new projects, output expansion and IPOs, the Ministry of Environmental Protection said in a statement on its website on Tuesday.
Industry insiders said this will affect production costs and may raise the prices of Chinese rare earths.
Related readings:


 China to raise rare earths production this year


 Rare earths to be more tightly controlled


 Green standards issued for rare earths


 The plight of China's rare earth mining


 Large rare earth deposit discovered in east China
An executive from Ganzhou Rare Earth Mineral Industry Co Ltd, who declined to be named, said at least 60 percent of producers could not currently meet the standards and they will have to spend more on environmental protection to pass the review.
According to a JPMorgan report released on April 11, the prices of domestic rare earths continue to rise as China cuts back on illegal mining. Since March 28, domestic prices for cesium have risen by 49 percent to $19.76 a kilogram, lanthanum by 75 percent to $14.32, and neodymium by 23 percent to $99.75.
Rare earths is the collective name for 17 elements used in high-tech industries, including the manufacture of wind turbines, hybrid-car batteries, missile guidance systems and other advanced electronics.
China, which possesses one-third of the world's rare-earth reserves and provides more than 90 percent of the world's supplies, has seen environmental damage from the mining and processing and depletion of the resource. Because of this, the government implemented a number of measures to improve the sustainable development of the industry.
The Ministry of Environmental Protection issued new industry standards in March to reduce pollution and regulate the scattered industry.
Under those standards, a liter of production wastewater may contain no more than 15 milligram (mg) of the pollutant ammonia nitrogen, reduced from the current 25 mg.
The new standards also include regulations on emission quantities of radioactive elements and phosphorus.
Wu Xiaoqing, vice-minister of environmental protection, previously said that companies will have to increase their investment in pollution treatment facilities.
He estimated that the industry will have to spend at least 1.5 billion yuan ($228 million) on building sewage treatment facilities, which will incur an annual operational cost of 280 million yuan, calculated on the basis of 150,000 tons of rare-earth production a year.
"The government will allow two years for rare-earth companies to upgrade their techniques. If they don't meet the standards, they will be banned from the industry," said Huang Xiaowei, vice-director of the National Engineering Research Center for Rare Earth Materials and a professor at the Beijing General Research Institute for Nonferrous Metals.
The effect on rare-earth companies depends on how the government implements the policy, she said.
"There are more than 100 rare-earth mining companies scattered across the country. It is difficult to evaluate the impact until the government fully implements the policy," she added.