Change in tradition
China's dead used to be buried in wooden coffins on a dedicated area of farmland, which in traditional thinking allowed them to be reunited in the afterlife. However, central authorities banned the practice in 1997 to conserve space, and since then all ethnic Han Chinese have been cremated.
Yet, as decades of urbanization made some people rich and forced others to move far from home for work, greater emphasis has gradually been put on doing more for parents and relatives in the afterlife.
Funeral and cemetery businesses today are turning massive profits and the industry is attracting some major players.
In August, last year, China Healthcare Holdings, a company listed in Hong Kong, spent HK$3.36 billion ($430 million) to buy Mascot Land, which owns five graveyards across China, including Fushouyuan in Shanghai.
Two private equity funds operated by the United States-based Carlyle Group also invested $100 million in the deal, showing international interest in the Chinese market.
"About half of the country's cemeteries are State-owned," said an insider with a Shanghai private equity who did not want to be identified. "Profits for funeral businesses are huge, with a turnaround of 200 to 300 percent within three years."
He blamed the price hike on the "scarcity of land" and added: "We're advising people to buy (plots) in advance."
Roughly 9 million people die on the Chinese mainland every year, with half of them cremated, said Zhang Hongchang, vice-president and secretary-general of the China Funeral Association, during a speech in Hong Kong in November. However, with just 1,792 burial sites existing nationwide by the end of 2009, many areas are struggling to meet the demand for such plots.
According to recent media reports, cemeteries in Shanghai, one of China's most densely populated cities with about 23 million people living across little more than 6,100 square kilometers, may run out of room in the next decade.
Residents in Jinan, capital of East China's Shandong province, are also reportedly investing in plots in the hope of profiting from future price increases.
"Speculating on graves is against China's funeral regulations and a waste of land resources," said Zhang in his speech. "Prices should go up, as it's a way of adjusting to the huge demand, but they should not be rising out of control."
He added that large cities, including Beijing, are attempting to prevent tomb speculation by demanding that potential buyers present the death certificates of deceased relatives before making purchases.
Along with the growing cost of graves, people are also spending more on elaborate funeral services.
Last month, businessman Lin Dayu laid out 6 million yuan on a lavish send-off for his mother in Wenling, Zhejiang province. The ceremony included a fleet of nine stretched limousines covered in white flowers, as well as an orchestra of more than 600 musicians and 600 monks, Xinhua News Agency reported.
"My father died early and it wasn't easy for my mother to raise us. I just wanted to bid her a nice farewell," said the 40-year-old chairman of Zhengtian Group, which has interests in the automobile and hotel industries. "Chinese spare no expense on two major events: weddings and funerals. They reflect a family's wealth, prestige and social status."
Funeral rites are a large part of Chinese culture and represent the traditional importance of filial piety, which is mentioned in everything from classic folk tales to modern television soap operas.
"Everybody wants to be part of the family and give their nearest and dearest a good final journey, so families try to do the best that they can afford," said Zhang at the China Funeral Association.
After funerals and during the Qingming Festival, people will feast on the food and drink they bring to honor loved ones either at the grave or in nearby memorial gardens, which signifies a family reunion.
"When my grandmother passed away, my entire family gathered together to talk about the joys and sorrows of her life, which covered almost a century of our family history," said Huang Yuying, a marketing director at a Beijing real estate company. "Although she passed away years ago, we all still treasure the great memories and are so proud of being her grandsons."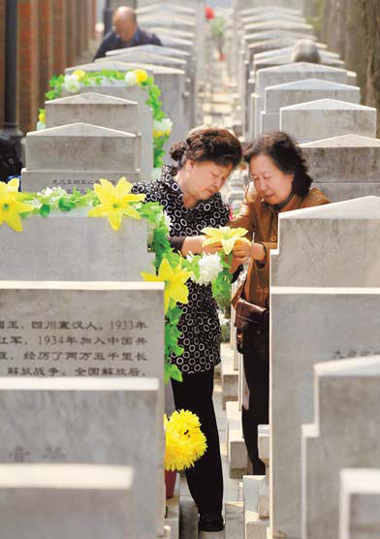 Women decorate the grave of their relative before the Qingming Festival at the Babaoshan cemetery in Beijing. [Wang Jing / China Daily]