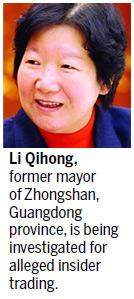 GUANGZHOU - A former mayor from Guangdong province is being investigated for alleged insider trading, authorities said on Thursday.
Li Qihong, who had been mayor of Zhongshan, is being investigated along with her husband and relatives.
They are suspected of having illegally earned 19.8 million yuan ($3 million) from insider dealing on the stock market during a two-month period in 2007, according to Zhao Zhenhua, deputy secretary of the provincial Party's commission for discipline inspection.
Five of Li's relatives are part of the probe, Zhao said.
At the time, Li's husband, Lin Yong'an, 54, had been vice-chairman of the Zhongshan city association of golf, while her younger brother, Li Qiming, had been the manager of a local property development company.
Investigators believe they may have raised a total of 6.7 million yuan to buy stock in Zhongshan Public Utilities Groups Co Ltd, a Shenzhen-listed company, in August 2007.
During the 14 successive trading days after Li allegedly purchased the stock, the company's price rose dramatically. Investigators believe Li revealed changes to the company in advance and therefore pushed the stock price high, Zhao said.
Related readings:


 New rules target insider trading


 Former court chief sentenced on graft charges


 Anti-graft officials ordered self-discipline


 Officials vow to boost graft fight
After her case was made public at the end of May 2010, she was removed from her post.
Also, Tan Qingzhong, chairman of Zhongshan Public Utilities Groups Co Ltd, and Zheng Xuling, the company's general manager, have been removed from their posts pending further investigation. Both Tan and Zheng were promoted by Li to their positions.
Li is reportedly the first female mayor to have been the subject of such an investigation on the mainland.
She was named mayor of Zhongshan, a prosperous Pearl River Delta city, in 2007.
In 2009, she was named one of the top 10 mayors in China because of the city's strong performance in urban construction, environmental protection, finance and transportation industries.
Zhu Lijia, a professor at the Chinese Academy of Governance, said Li's case showed it is necessary to establish a system to ask top Party and government officials to report their assets and investments to relevant departments.
Guangdong plans to launch a pilot project later this year requiring Party and government officials to report their assets in the latest move to curb corruption after multiple cases involving senior Party and government officials were investigated during the previous year.
Guangdong's deputy Party chief Zhu Mingguo said the campaign will be introduced in designated cities and departments before the end of the year and will be rolled out province-wide during the next few years.
"The move aims to ensure honest and clean government in Guangdong," said Zhu who is also secretary of the provincial Party commission for discipline inspection.
Zhu urged local officials and civil servants to refuse invitations to banquets and for sightseeing tours, entertainment and fitness events that are not related to their work.
Last year, 31 of Guangdong's city-level Party and government officials were investigated for graft, according to figures from Zhu's commission.