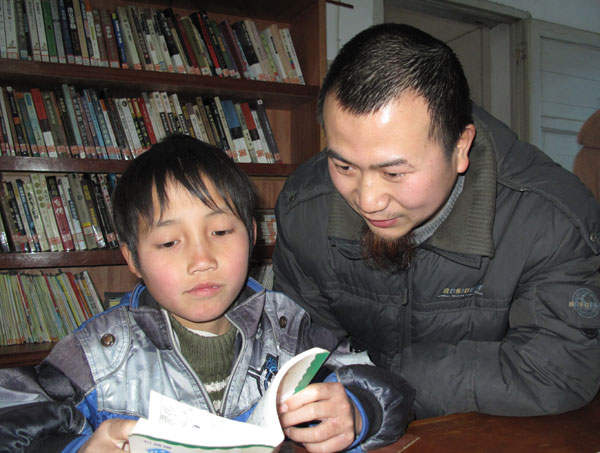 Li Yingqiang, founder of a nationwide rural library project, reads with a child in the project's first library in his hometown of Huanggang, Hubei province, on March 2. [Photo / China Daily]
HUANGGANG, Hubei-Founding a village library for kids may not sound trendy in today's Internet age, but for Li Yingqiang, it is cutting edge.
He hopes free access to inspiring reading material might help future generations in China's remote rural areas find their own paths in life.
"Moreover, what we're doing is far more than providing free reading. The library also serves as a public space where people meet for discussion and exchange of information and ideas," the goateed man told China Daily.
Li, 32, considers such spaces essential to today's rural students in China because they only have access to their textbooks, which makes it difficult for them to compete with their peers from the cities who have many other avenues such as the Internet, museums and various extracurricular activities to explore their own interests.
"It's a pity to hear those children always respond to the question, 'What do you study for?' with the answer 'Get a better life so as to have delicious food, beautiful clothes and no manual labor any more'," said Li who comes from a village in Huanggang, Hubei province.
He noted that most rural students focus only on exam-oriented classroom studies rather than seeking an education that best prepares them for a life in line with their interests and personality.
But Li said the children are not to be blamed.
Also born and raised in a rural village, Li had spent most of his childhood and teenage years preparing for the national college entrance exam, which, once passed, serves as a gateway to future success, especially for students from the rural areas.
He majored in economics in university and had years of work experience in large State-owned enterprises before he continued with his studies for a master's degree at Peking University.
"For centuries, Chinese have long relied on passing the entrance exam for a change of fate," Li said. "But even if they pass and enter college, that doesn't mean they will find a nice job and lead a happy life as they might have thought."
Li hopes to free those rural kids from the learning-is-to-get-rich educational trap.
"If they can't find their own interests and faith in life during their teenage years, they can easily get lost in the future," Li said.
After several discussions with friends and with their encouragement and support, Li's nationwide rural library project called Liren - literally meaning to help one find his own way - was born in 2007 soon after he graduated from Peking University.
Li said he believes in reading, which not only expands one's horizon but also trains one to think independently.
With a starting fund of 20,000 yuan ($3,000) donated by four friends, Li set out to build the first Liren rural library in his old school, Qingshi Middle School, in his hometown.
The library now has a collection of 8,000 books, mostly about science, children's literature, biographies and culture.
"You might consider print reading as outdated. But if you take a look at the United States, where the popularity of the Internet is pervasive, libraries still play an important role in people's daily lives," he said.
To ensure that those books would be conducive to the teenagers' growth, Li and a number of highly educated volunteers handpicked almost every book, usually from secondhand bookstores close to China's top universities, where they usually get a discount of more than 60 percent.
Li said he is glad that his library has attracted quite a regular group of students, who have established their personal interest after a few months of extensive reading.
Li's library project has expanded to include 10 branches in towns and villages of seven provinces such as Sichuan, Henan and Shaanxi. Each branch is under the management of locals with an average monthly salary of 1,000 yuan.
According to Li, all the libraries are now completely dependent on donations.
But he has never worried much about the survival of the libraries. In fact, besides spending time in the library in his hometown, Li spends much of his time traveling across China at the invitation of many like-minded people to help establish more libraries.
"Apparently I'm not the only one who has come to realize the need to enrich the spiritual lives of teenagers in rural areas," Li said. "I believe more will join me in the future."
"My living is also completely dependent on donation, but I don't think I will be ashamed of that - I believe I contribute more to the society doing this rather than working in big cities enjoying a rich life," added Li.
Zhou Lihua contributed to this story.