BEIJING - After a spate of incidents in which toddlers have been assaulted at kindergartens across the country, parents of children at one preschool are welcoming the chance to keep their eyes on their kids with the help of the Internet.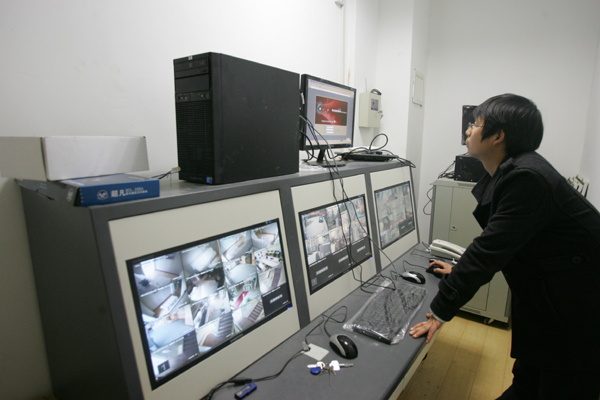 A security guard checks surveillance equipment at a kindergarten in Xi'an, in Northwest China's Shaanxi province, earlier this month. Parents can monitor their children at the kindergarten via the Internet with the help of the cameras. Provided to China Daily
In a pilot program that is likely to turn the worried heads of parents nationwide, caregivers at a kindergarten in Chongqing will soon be able to monitor the progress of their children through video cameras connected to the Internet.
The idea has evoked strong support from both parents and schools.
Related readings:

 Kindergarten entry no longer child's play


 '9 in 10 kindergarten teachers unqualified'


 Kindergarten kids helped me value language


 13 kids injured when kindergarten wall collapses

"We have paid hefty amounts in school fees. With the help of the cameras and the Internet we will be able to track the progress of our wards and also understand how well they are coping with other children," said Huang Xuefeng, the father of a 3-year-old girl in Longfor Fengxiangting Kindergarten in Chongqing, an elite preschool in the municipal city.
Most of the parents are connected to the Internet and do not mind coughing up monthly fees of 10-20 yuan ($1.5-$3) for the monitoring service, according to the headmaster of the kindergarten.
The school has so far invested nearly 20,000 yuan on camera systems for five classrooms.
Using the technology, the parents can log on to the website of the kindergarten with an authorized username and password from home or the office and watch the progress of their children at school.
It also offers them comfort after those violent incidents in schools across China last year.
"Demand for surveillance products went up by 40-50 percent after the attacks on schoolchildren last year," said Wang Yixue, marketing manager of Shenzhen Neitway Information Technology Development Co Ltd.
Wang expects the market for surveillance products to see steady growth this year, but at a pace slower than that of last year. The national education department and the public security department have attached greater importance to campus safety this year, he said.
The Ministry of Finance is likely to spend around 3.8 billion yuan this year on campus security, according to a statement on its website.
The surveillance plan, however, has not found favor with some teachers who are uncomfortable with the constant scrutiny.
"Our products are capable of supporting multiple viewers but only a few kindergartens have chosen to install these products," Wang said.
In some kindergartens, the video cameras are used only by the manager and are not available for parents.
"We have opened an online space for parents and update their children's photographs and their daily progress. We decided not to provide an online surveillance service for parents after discussions," said a teacher at the Bluesky Kindergarten in Changchun, Jilin province.
She said several teachers were uneasy with the monitoring.
"The surveillance system is widely used in Western countries. Western teachers work in kindergartens for fun, whereas teachers here work for a living."
According to her, the video cameras only convey visual information without sound.
"This could lead to misunderstandings by the parents."
She said, despite the problems, her school would strive to improve its communications with parents.
"It is likely that parents will misinterpret what we are doing, especially if the camera is at some special angle," said a teacher, who refused to be named.