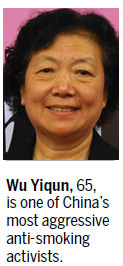 BEIJING - Tobacco kills someone every six seconds in the world.
Yet smoking opponents trying to prevent those deaths are not regarded as frontline heroes saving lives, said Wu Yiqun, one of China's most aggressive anti-smoking activists.
"Soldiers win applause when they save people from earthquake debris, doctors receive thanks when they cure a patient with a prescription, but we are always rudely turned down when we try to stop someone smoking in a crowded restaurant," Wu said.
Last year, with the help of her coworkers, the 65-year-old succeeded in persuading organizers of Expo 2010 Shanghai and China's National Games to return all sponsorship fees from tobacco companies.
Though she received an award from the World Health Organization (WHO) for her contributions advancing tobacco control in China, the voices calling her a "troublemaker" never ceased.
"People do not understand why money from tobacco enterprises shouldn't be used for charity. But tens of thousands of pieces of evidence show tobacco ads have a negative influence on the implementation of tobacco control," Wu said.
China had pledged to adopt tobacco control measures before this January in a convention signed at the WHO, but failed to fulfill its promise.
The Framework Convention on Tobacco Control (FCTC), which was enacted in 2006 in China, included a ban on smoking in indoor public places across the nation, a total ban on tobacco-related advertising and labels on cigarette packets to warn of health risks.
The country's first detailed anti-smoking rule did not come out until late March, in which the Ministry of Health said all indoor public venues on the Chinese mainland must display no-smoking signs by May 1, and outdoor smoking areas should not affect pedestrian traffic, and no vending machines shall sell cigarettes.
China has an estimated 350 million smokers and 540 million people suffering from secondhand smoke. About 66 percent of men aged 15 and above smoke and approximately 70 percent of all Chinese women are affected by secondhand smoke, which causes cancer and cardiovascular disease.
Wu said policymakers should also ban smoking inside office buildings, as well as fine people who smoke in indoor public places instead of just imposing a penalty on the owners of these places.
However, what disappointed Wu most was related regulations on the health risk warnings on cigarette packets.
According to the FCTC, the warning should occupy at least one-third of the front of cigarette packets with images indicating possible results of smoking, such as a picture of a lung destroyed by cancer.
Currently, China's cigarette packets only have a line of words in small print reading "Smoking is harmful to health".
"If a teenager sees a picture of impotency every time he buys cigarettes, will he quit smoking or not?" Wu said.
At present, warnings with pictures are widely used in countries and regions including the United States, France, Australia, Thailand, Taiwan and Hong Kong and the cigarettes China exports to these regions are marked with such warnings.
"I had bought my mother cigarettes since I was a child, and she died of emphysema. If we had known the harm earlier, she might not have died so early," said Wu, who worked as deputy director of the then-called Chinese Academy of Preventive Medicine, now the Chinese Center for Disease Control and Prevention.
After her retirement in 2004, Wu, who still feels regret about her mother's early death, worked as the deputy director of the Think Tank Research Center for Health Development, an NGO engaged in tobacco control.
"The most effective method of smoking control is to let people know the harm, and you have to keep repeating the harm to impress on them that you are saving their lives," said Wu, who together with her center has been urging smoking bans via media conferences and academic meetings.
With her life-long experience working as a public health researcher, Wu knows how to persuade people and policymakers and she convinced a number of medical experts to work with her.
During the annual sessions of the National People's Congress and Chinese People's Political Consultative Conference this year, representatives made more than 800 proposals related to tobacco control.
However, Wu is worried she is growing old and cannot find a successor. The research center now has 20 members but without steady, sufficient financial resources, no college graduates will be willing to join them.
"I will work as long as my health permits. I do not want honor or praise, I want the organization to develop well and win the respect of society," she said.