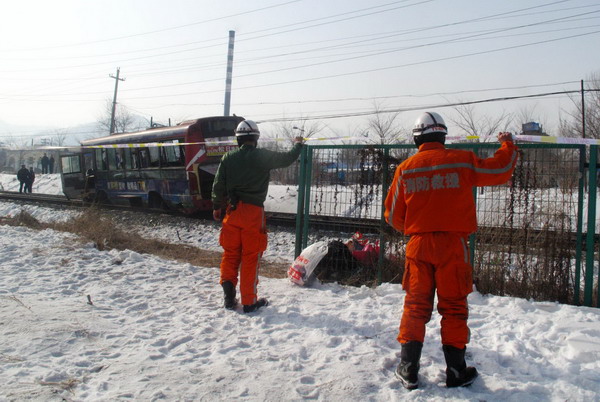 Rescue workers enter the collision scene in Urumqi, Xinjiang Uygur autonomous region, March 24, 2011. [Photo/Xinhua] 
URUMQI- Three people are dead and 85 others injured after a train slammed into a bus Thursday morning in northwest China's Xinjiang Uygur autonomous region, according to the local rescue center.
Among the injured, 10 were in a serious condition, at least 41 were children under the age of 16, sources with the Urumqi Rescue Center said.
The three dead were all adults, two women and a man, said the rescue center.
Xinjiang's publicity department said earlier that three people died and more than 50 others were injured in the accident.
The accident happened at 9:07 am, in Urumqi, the regional capital, according to the department.
Some of the passengers on the bus were students on their way to school.
The injured were rushed to four local hospitals for treatment, said the rescue center.
The driver of the bus suffered only minor injuries and had been taken away for police questioning.
"The bus was fully loaded and many of the passengers began to jump out of the windows before the train hit," said a local store keeper who only gave his surname as Xiao.
"It was a total mess. Some nearby residents joined in the rescue and some of the injured were rushed to hospitals by passers-by," Xiao said.
The bus was severely damaged in the accident, photos taken at the scene show.
Some residents complained that buses which used on No 531 route were too old.
An investigation into the accident is under way.