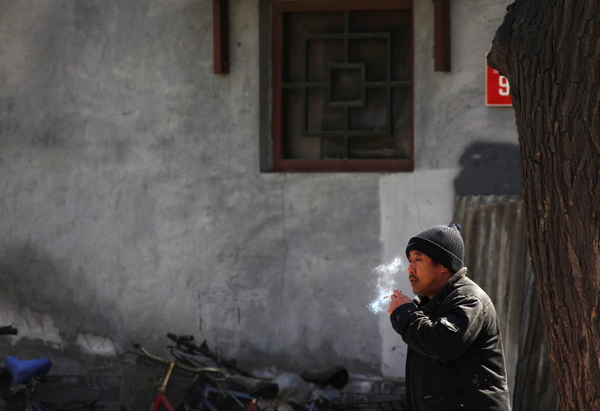 A man smokes a cigarette on a street in central Beijing March 16, 2011. China has the world's largest smoking population, with more than 320 million smokers, and is also the biggest producer of tobacco, manufacturing 2.16 trillion cigarettes in 2007, according to the Tobacco Atlas.[Photo/Agencies]

BEIJING -- China enacted a new rule to ban smoking in enclosed public locations, according to the country's Ministry of Health on Tuesday.
The new rule, which will take effect on May 1, was added to the revised regulations on health management in public places from the ministry.
Related readings:


 Smoking banned in indoor public places


 Lindsay Lohan quits smoking


 No good reasons for smoking in public


 Support grows for strong action on smoking
The new anti-smoking rule shows the government's resolution to intensify tobacco control efforts in China, which has ratified the Framework Convention on Tobacco Control of the World Health Organization, said Xie Yang, an official from the ministry.
The revised regulations also stipulates that business owners of public places should set up conspicuous non-smoking signs, carry out promotional activities to warn people of the danger of smoking, and dispatch personnel to dissuade smokers.
Further, the smoking area in outdoor locations should not occupy people's paths and cigarette vending machines should be excluded from public places, the regulation said.
China has more than 300 million smokers and a large percentage of the country's non-smokers inhale toxic second-hand smoke in public places such as restaurants, office buildings, schools, hospitals and public transport.
Figures show that tobacco use and second-hand smoke kill roughly 1.2 million people per year.