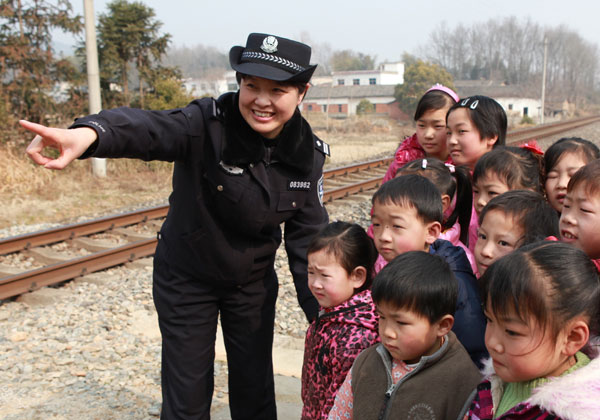 Li Shuahua, a 46-year-old railway police officer, teaches a group of children about railway safety in this updated photo. [Provided to China Daily]
ANQING, Anhui - The 30 kilometers of railroad track wind through 100 villages populated with more than 14,000 people.
Yet for the past decade, one person has dedicated herself to keeping the tracks safe for trains and citizens alike: Li Shuhua.
"I have to ensure that no one gets injured along the 30-kilometer railway line under my watch," said Li, a 46-year old railway officer in Taihu county, Anhui province.
"I hardly had any idea of my job responsibilities when I first started working here, nor a clear understanding of what damage a train accident could do," she said. "In fact, before I left home for college in 1984, I'd never traveled by train."
Li graduated from Anhui Normal University in 1988 majoring in chemistry and worked as a middle school teacher in her home village of Taihu before she joined the railway police force to be with her husband and son in 1996.
That's when the railway through Taihu county was put into operation.
Accidents began to occur shortly afterwards. As no railroad has ever been built through the area, most villagers had no idea about railway safety.
Li still remembered her shock the first time she witnessed a railway accident.
"A middle-aged man had been hit in the middle of the railway when a train was coming," Li said. "His head was smashed into two halves. It took us half an hour to collect the other half."
As an officer at the scene, Li tried hard to calm herself, yet for the following few weeks she felt very reluctant to eat whenever she thought about the accident scene.
"That was when I resolved to do whatever I could to stop such accidents from happening," Li said.
Li's major responsibility is teaching local people about railway safety.
"In the beginning, villagers had very limited knowledge about how to keep safe along the railway. They crossed the railway anywhere and anytime they wanted, and herded cows near the railway line," Li recalled.
"In fact, herding cows along the line is not only dangerous to the cows, but also threatens the train. Because cowhide can be very tough and slippery, crushing a cow can cause the train to derail."
Passing trains can reach 110 km per hour.
"Almost every accident on the railway is fatal. I needed to visit every household along the line and tell them not to get too near."
But the policewoman was not welcomed at all when she first started her visits. Most villagers thought she was exaggerating the dangers.
"It's quite similar to people going through red lights on city streets. You never feel the importance of following traffic rules until you see an accident. For me, there was no other way but to keep trying."
So Li chose to befriend the villagers first.
Her office is located beside the Taihu railway station, but she seldom stays indoors. She rides her motorcycle along the mountainous roads five days a week visiting locals.
She pays great attention to educating children about railroad safety. She and her colleagues regularly visit 16 primary and middle schools along the line, especially before summer and winter vacations when children are likely to play along the railway.
"Most children have limited knowledge about how fast a train can run, not to mention the danger a passing train can pose," Li said. "We show them pictures of accident scenes so they will have a clear idea about how terrible a railroad accident could be."
Li also hands out text materials about railroad safety rules to students.
"Usually, students are willing to share things they learned from us with their parents," Li said. "This helps us to educate more families."
Li seldom has a day off, but she rarely regrets becoming a police officer.
"But my husband and my son have been very supportive about my work," Li said. "For me, seeing nearby villagers living a peaceful life just like my family greatly encourages me to continue."