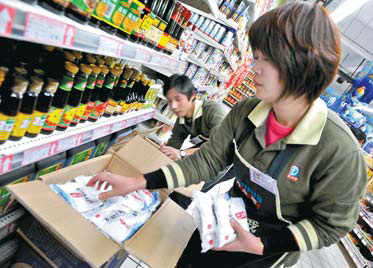 A worker places newly delivered salt onto a shelf at a supermarket in Jinan, Shandong province, on Friday. [Photo/Xinhua]
BEIJING / SHANGHAI - The Ministry of Commerce on Friday joined other government agencies in assuring the public of "substantial" salt reserves as panic buying prompted by radiation fears over Japan's crippled nuclear power plant continued in some Chinese cities.
"The salt supply is completely guaranteed in the country," the ministry said in a statement on its website.
China has an annual salt production capacity of more than 80 million tons but the country's edible salt consumption is only about 8 million tons a year. Salt companies usually have supplies for three months of consumption, said the statement.
The statement was similar to one issued on Thursday by the country's largest salt maker after a wave of panic buying was triggered by rumors that iodized salt could help guard against radiation poisoning.
The company, China National Salt Industry Corp (China Salt), said it had ample salt reserves to meet the people's needs and panic buying and hoarding was unnecessary.
Most salt sold in China has been iodized as part of government efforts to prevent iodine deficiency disorders.
Rush buying of salt by worried shoppers emptied supermarket shelves in Zhejiang, Guangdong, Jiangxi, Guizhou, Sichuan, Jiangsu and Hubei provinces as well as the municipalities of Beijing and Chongqing.
The ministry has ordered local commerce departments to closely monitor the market and organize timely distribution of goods to meet people's needs, according to the statement.
The ministry advised shops and supermarkets to increase their salt inventory if necessary and supply the product in an orderly, balanced and sustained way.
Also, China Salt has stepped up production and started a 24-hour distribution program.
Rumors in some Chinese cities say that radiation leaked into the sea from the nuclear power plant in Fukushima, Japan, compromising the safety of salt taken from the sea.
Only 20 percent of the country's salt comes from the ocean and most salt on sale is rock salt, which is mined, according to China Salt.
The salt supply was restored on Friday in supermarkets across the country but panic buying did not cease.
Around 300 concerned consumers lined up at 7 am on Friday at the gate of Dalian Salt Industry Company, the only salt wholesaler in the coastal city of Northeast China's Liaoning province.
Each was allowed to buy a maximum of 70 bags, or 24.5 kg of salt.
"Although experts said there is no need for panic purchasing, I simply doubt their words," said Guo Peng, 32, a Dalian resident who waited seven hours in line.
The city sold 1,000 tons of table salt on Wednesday and Thursday, almost 16 times its daily consumption.
The salt company is planning to call in some 2,000 tons over the weekend.
Similarly, continual panic forced salt retailers to restrict supplies in Beijing as well as Anhui, Jiangsu and Zhejiang provinces, according to media reports.
In Southwest China's Guizhou, the government shipped in 2,000 tons of salt on Friday, increasing local reserves to enough for four months of consumption.
"Even though we restricted the supply of salt to 350 grams per person, consumers snapped up everything containing salt, including soy sauce and fermented bean curd," said Tian Xueliang, manager of a Shouhang Supermarket in Beijing.
Supermarket staff removed salt from the shelf and distributed it at the cashier.
The price of a 350 gram bag of salt fell back to 1.3 yuan, (20 cents), down from its surge a day earlier to 5 yuan a bag, media reported.
On Thursday, the National Development and Reform Commission urged local price control authorities to stop sellers from bidding up the price.
By Friday, a dozen stores in Zhejiang province and four in Guang'an, Sichuan province, had been punished for raising prices.
Shanghai police said on Friday that two men circulating messages that Shanghai will be severely contaminated by the nuclear leak in Japan will face prosecution for disseminating rumors, Shanghai-based news portal Xinmin.cn reported on Friday.
A man surnamed Wu in Shanghai watched a news report about the explosion of Japan's Fukushima nuclear power plant and made up a rumor saying that contaminated air in Japan hit Shanghai on March 15, the report said.
The message soon circulated on social networks and reached Wu's classmate surnamed Yin, who later forwarded the message on his instant messengers' contact group, which caused further dissemination via text messages and Internet, according to the report.
Both Wu and Yin have been given administrative penalties after investigation by Shanghai police, it said.
Panic buying of salt due to fear of radiation has begun slowing in some areas as sales of salt in Zhejiang province on Friday were only 50 percent that of Thursday, said Ding Qingming, spokesman with Zhejiang Provincial Salt Administration.
Ma Shulin, manager of a grocery chain store in Beijing, told China Daily on Friday that their salt sales were almost 20 times higher than usual.
"We've sold 2,000 bags of salt in the one hour since we opened the store this morning, even though we only hand out two bags to each customer," Ma said.
One consumer surnamed Mo, who had waited in line five times and bought 10 bags of salt, said that she was still worried about radioactive contamination.
"The government said the seawater was not affected by radioactive leaks, but I'm not sure whether it will always stay clear, or whether the salt made of contaminated seawater will appear on our table some day in the future, so I prefer buying salt in advance," she said.
Mo said she would wait in more queues to buy salt despite the limited supply.
Yang Jun and He Wei contributed to this story.