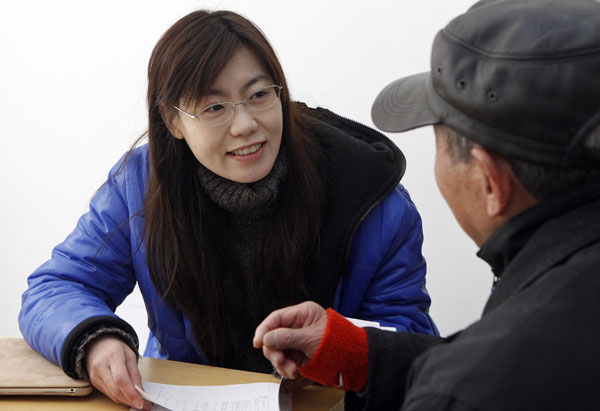 Yang Lei,26,founder and manager of the Yuanzhu Day Care Center on Shanghai's Weifang Road, helps a client. Yong Kai/For China Daily
SHANGHAI - The first thing one might notice entering this lively day-care center is the age of its visitors.
"It's like a mature version of kindergarten," said Yang Lei, founder and manager of the Yuanzhu Day Care Center in Shanghai.
Unlike most other centers for the elderly in China that merely provide them with a nanny, Yang said the secret of her center's popularity lies in helping senior citizens continue to socialize.
"We have around 20 to 30 people coming every day, all from nearby neighborhoods," said Yang, 26, a Shanghai native who received her college education in the United Kingdom.
"It's the atmosphere that makes us different," she said. "You can tell from reading their faces - everybody is curious, interested or cheery."
In one room, tables of four are filled with senior women playing mahjong, at times bursting into laughter. Elsewhere, a volunteer shows a dozen people how to use the facilities in the rehabilitation training room. In the dining room, workers set up a lunch buffet.
Open from 8 am to 4 pm weekdays, the care center is open to any retired resident living within walking distance for 100 yuan ($15) a month.
While it is hard to associate a person of Yang's age with "a pioneer in senior care", Yang has more than seven years of experience in elderly care under her belt, beginning when she was a 19-year-old sophomore at a college in the UK.
"I was looking for a part-time job," said Yang. "I wasn't interested in positions like a waitress, I was thinking more about 'what can I do to learn something and at the same time help others?'"
That was when Yang found Care UK, an independent company offering services to nursing and care homes.
"I learned basic knowledge and skills," she said. "We received training and were assigned to different older people, mostly widows or those with diseases like Parkinson's."
As a caregiver, she had to help the elderly with a wide range of tasks.
"I took them shopping. Some of them loved candy so much that they forgot they had bad teeth - I had to remind them of that. I read for them because some of them were illiterate. I walked them to the park and even brought them to the ball dedicated to the elderly," Yang said.
The kind of joy gained from helping the elderly kept her on the job for more than three years. But it wasn't until Yang returned to Shanghai in 2007 and saw the difference between seniors in China and the UK that she decided to do something to improve her country's elderly care.
"I was shocked when I saw how hard it was to find my grandpa a nanny - few are willing to do the job here - it involved less pay and hard work. I could hardly imagine what the elderly in China could do during the day - they have nothing to do apart from preparing their sons and daughters a dinner - nothing but wait," Yang said. "That reminds me how lucky those seniors were in the UK, how we did everything we could to prevent them from being isolated from society. It was quite a shame to see the contrast."
In February 2009, with 200,000 yuan borrowed from her mother, Yang established the city's first private company that specialized in providing senior care services.
Even with a local government subsidy of around 50,000 yuan a year, Yang barely kept the center afloat.
Yet the biggest challenge was people's traditional view of senior care as only social welfare.
"The government wanted to promote the care center to low-income families by not charging anything at first, but the thing is we're definitely going to lose money that way," Yang said. "And that makes it hard to hire competent staff.
"To regard elderly care as part of the service industry might conflict with our conventional concept, but the demand out there is huge."
Shanghai faces overwhelming pressure from its 3 million seniors over 60 years old. The aging demographic accounts for 22 percent of the city's population and is increasing by 20,000 people a year with the biggest increase from those over 80.
Yang envisions a new model that could put several elderly people currently living alone into the same apartment while leasing out their other residences.
"It will save lots of social resources if we could get old people living together," Yang said. "At the same time, they have each other's company and it's also easier and more efficient for us to provide services."
But Yang said she has to put the idea on hold at the moment as most of the elderly in China are not ready for the concept.
"Most of them have concerns about the safety of their property, even though they dislike living alone," Yang said.
Yang said she regards the care center as a start for the elderly to learn how to spend their retirement years in a happier way with trust and accompanying their peers.
But she believes such a start is like a spark of fire that will finally flare up into a prairie fire.
To accelerate the process, Yang said the government might learn from countries like the UK and encourage private companies to offer professional senior services through attractive policies like tax breaks.
"That's a future I look forward to," Yang said.