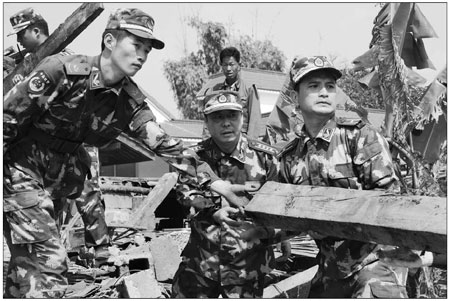 Soldiers demolish damaged buildings in Yingjiang county, Yunnan province on Friday. The 5.8-magnitude earthquake that hit the county on Thursday noon has resulted in 25 deaths and 250 injuries. [Photo/Xinhua]
YINGJIANG, Yunnan - Rescuers with sniffer dogs and life detectors kept searching in the rubble on Friday for survivors after an earthquake hit a densely populated county in Southwest China on Thursday.
The 5.8-magnitude tremor, which jolted Yingjiang county of Yunnan province near the border with Myanmar, has left 25 people dead and 250 others injured.
The county has a population of 300,000 and is home to many ethnic groups.
Related readings:


 5.8-magnitude quake hits SW China's Yunnan


 Death toll rises to 22 in SW China quake


 Philanthropist to donate 200,000 yuan to quake victims


  Vice President requests all-out efforts on quake relief
The youngest victim was 3 years old. Among those killed were five students. Doctors said 134 people were seriously injured.
The quake destroyed more than 18,000 houses and damaged 50,000 others, many of which are no longer habitable.
President Hu Jintao and Premier Wen Jiabao stressed saving lives is a priority and ordered quick relief work after the quake.
Gao Lei, a 21-year-old firefighter, staggered through the debris of Yongsheng Hotel along with five colleagues and three sniffer dogs.
"We haven't found any sign of people buried here," said Gao. "But we found three people buried in an adjacent tailor's shop. They are safe now."
Many soldiers used their hands to dig through the rubble as machines could not be operated there.
More than 6,100 people, including soldiers, police, medical staff and civilians, have participated in the rescue operation, saving at least 40 trapped people and transporting more than 200 injured to hospital.
Chen Dairong, head of the Yunnan Emergency Rescue Team for Earthquake, told China Daily on Friday that his team has used two sets of life detectors and several sniffer dogs to find any remaining survivors in the debris.
He added that the team decided to give up searching as no signs for life has been found as of Friday noon.
A firefighter, surnamed Ai, said his detachment from the nearby city of Dali has put 12 vehicles and 60 firemen into service. Their duty now was assisting local residents to salvage property in dangerous houses before the buildings are demolished.
According to the China Earthquake Administration, the quake first hit the county at 12:58 pm and 103 aftershocks were recorded in the region as of 10 pm on Thursday, among which were four tremors over a magnitude of 4.
As of 10 am on Friday, 3,300 tents, as well as more than 2,000 quilts and 1,200 coats, were dispatched to the homeless, according to the local government. Many residents had been moved to shelters in open fields.
The county needs 5,000 more tents for the homeless, said Zhao Jin, Party chief of Dai-Jingpo autonomous prefecture of Dehong, which administers Yingjiang.
The provincial and local governments have earmarked 23 million yuan ($3.5 million) in emergency aid to the quake-hit regions.
"We are now short of disinfectant, which is crucial to prevent post-quake epidemics," said Zhang Tao, president of the People's Hospital of Yingjiang.
About 74 injured people were transferred to other hospitals for surgery after part of the hospital's building was damaged and the power supply had not been fully resumed there, Zhang said.
Yang Jun, a 27-year-old local resident, was living in a tent on the county's central square with his family on Friday.
"Although the tent is shabby with no door or window, I feel much safer living here," he told China Daily. "Nothing is more important than being alive."
Yang Ping, owner of a local restaurant that was still intact after the quake, gave free meals to the tent dwellers on the square on Friday.
"We need to help each other and be more united," she said, "the earthquake shouldn't tear us apart."
Experts have not ruled out the possibility that stronger quakes might hit the region in coming days.
Prior to the quake, more than 1,200 minor tremors had been recorded in the region over the last two months.
More goods and materials have been flocking to the disaster-hit areas from other parts of the country.
The Red Cross Society of China, Yingjiang office, said it had already received donations of 410,000 yuan for the region as of 6 pm on Friday, including funds and medical materials from Hong Kong and Macao.
The central government has allocated 55 million yuan for quake relief, the ministries of finance and civil affairs said on Friday. The money will be used to relocate local residents as well as provide them with living subsidies.
Those who lost family members in the quake will receive condolence funds.
The weather in Yingjiang on Friday was sunny with a temperature of 29 C. Forecasts for the region predict possible rain at night in the next two days.
Xinhua contributed to this story.