The 2011 Forbes list of the World's Billionaires was revealed Wednesday, March 9, with encouraging results for Chinese businessmen as Robin Li, CEO of search site Baidu Inc is listed at No 95, breaking the top 100 for the first time by possessing $9.4 billion in assets, Xinhua.net reported Thursday.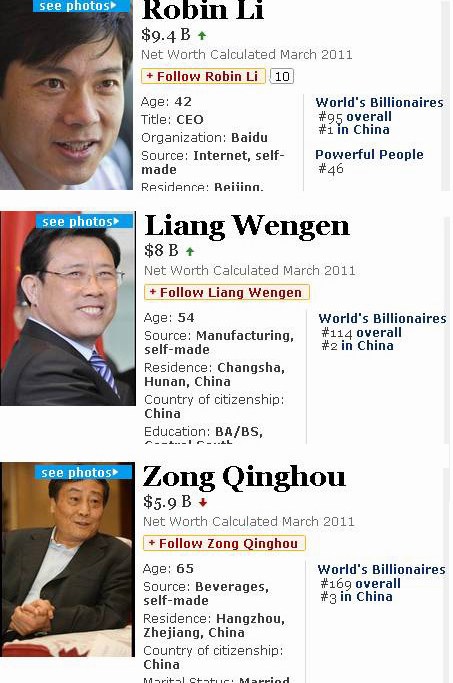 Top 3 mainland Chinese businessmen Robin Li, Liang Wengen, and Zong Qinghou are listed in the 2011 Forbes World's Billionaires list. This year's Forbes wealth list includes over 115 mainland Chinese entrepreneurs among 1210 world's richest.[Photo courtesy of
Forbes.com
]
It is worth noticing that 115 mainland Chinese entrepreneurs were among the 1, 210 people on the world's richest list -- that is a 340% increase from the 28 in 2009 and almost double the 64 in 2010.
Other mainland Chinese businessmen include Liang Wengen, chairman and main shareholder of Sany Group, at No 114 with $8 billion, Zong Qinghou, founder of China's largest beverage producer, Wahaha, at 169 with a wealth of $5.9 billion. Pharmaceutical giant Li Li & family, came in at No 179 with $5.7 billion, and IT businessmen Ma Huateng, co-founder of China's largest Internet company Tencent, is at No 208, worth $5 billion, Ding Lei, CEO and founder of Netease (www.163.com) at No 440 with assets of $2.6 billion. Yu Minhong, founder and chairman of New Oriental Education and Technology, for the first time was listed at No 1140 as one of the world's richest educators, with $1 billion.
Among the 1,210 richest billionaires, 36 are from Hong Kong, led by tycoon Li Ka-shing, No 11 with a fortune of $26 billion; and 25 are from Taiwan, including the CEO of suicide-plagued Foxconn Technology Group, Terry Gou, at No 179, with $5.7 billion.
The 25th Forbes World's Billionaires list also broke records in size (1,210 billionaires) and total net worth ($4.5 trillion) according to Forbes.com. Atop the list, Mexico's Carlos Slim Helu, maintains his top position by adding $20.5 billion to his $74 billion fortune. Bill Gates, Microsoft mogul, is 2nd with a net worth of $56 billion. Warren Buffett, CEO of Berkshire Hathaway, is, with assets of $50 billion, at No 3.
Thanks to China's strong economic drive, the number of Asian billionaires for the first time exceeds Europeans, with a total of 332 among the list, making Asia the "world neo-wealthy factory" despite the United State remaining the biggest country in producing over 413 billionaires -- 10 more people than in 2010, including new Internet "star" Mark Zuckerberg, CEO of the world's biggest social network company, Facebook, at No 52, with a fortune of $13.5 billion.
Moscow now has more billionaires than any other city, with 79 billionaires on the board, New York City follows with a total of 58 wealthy businessmen on the list.