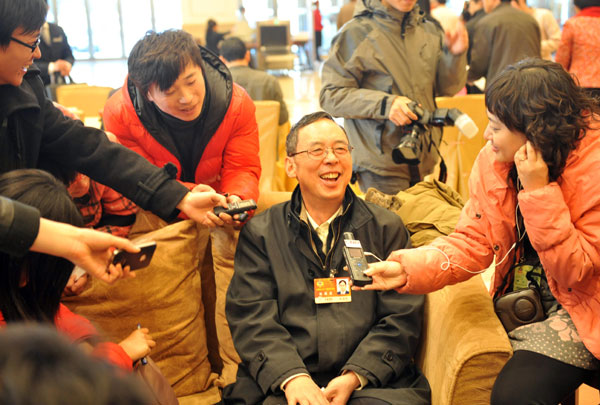 Zhu Qingshi, president of South University of Science and Technology of China, talks to reporters on March 2, prior to the opening of the ongoing CPPCC annual session. Hu Xuebo/For China Daily
BEIJING - Zhu Qingshi, one of China's leading scholars, didn't expect he would find his "most important career in life" at retirement age.
Instead of writing Chinese calligraphy and enjoying ceramics - a retirement life he saw as ideal three years ago - the 65-year-old has become a pioneer reformer of higher education in China.
"For me the past year was like skating on thin ice. I couldn't sleep at night without sleeping pills," said Zhu, who is heading up the establishment of China's first research-oriented and administration-free university.
His journey began in 2007 when the Shenzhen government planned to establish a top-ranking university, now known as the South University of Science and Technology of China (SUSTC).
At that time, Zhu was still the president of the University of Science and Technology of China, the country's leading university in engineering, science and technology based in Hefei, capital city of Anhui province.
Thanks to his long-held and bold attitude toward education reform, Zhu became the favorite candidate to head the university.
But Zhu turned down the offer several times - until two of his friends, both leading scientists and researchers of the country, persuaded him otherwise.
"They told me that we had spent our whole lives seeking an opportunity for higher education reform but failed because of unfavorable conditions," Zhu said. "Now the Shenzhen government was offering everything. It would be a pity if I simply let it go."
Believing it a once-in-a-life-time opportunity, Zhu accepted the offer in 2009.
Under China's current system, scholars are classified by their administrative rankings in a university, but Zhu's goal is to change the evaluation standard into one of research and innovation.
The idea of eliminating college professors' administrative ranking is widely seen as a measure to instill new life into research institutions and is viewed as part of the country's mid- and long-term talent development strategy.
As a result, SUSTC has been widely regarded as the country's trial of a new educational system and the public have pinned high hopes on its success.
Although he had been enjoying an official rank equivalent to a vice-minister since 1998, Zhu lost the privilege the moment he joined SUSTC, which means no free VIP service at the airport, nor even front-row seats sitting at educational conferences where he used to be treated as a VIP.
"To be honest, I felt the loss at first. But then it was at that exact moment I realized I was a university president, not a government official," Zhu said. "It was so good."
However, not everyone enjoys losing political privilege. Few professors prefer teaching at SUSTC because they do not want to abandon their official ranking.
As a result, Zhu traveled all across the country visiting professors to invite them into the university.
Now he has formed alliances with the "super stars" of the country's academic world, such as leading mathematician Zhang Jingzhong, as well as Li Jianshu, dean of Department of Mathematics at Hong Kong University of Science and Technology.
In April, he will head to Harvard for more recruits.
However, the current educational administrative system sets far more barriers to success than Zhu had imagined.
On Sept 15, 2009, when new buildings were rising on the SUSTC campus, the central educational department announced the college was "illegal" because its establishment had not been approved.
Under appeals, the Education Ministry ratified the construction of SUSTC at the end of 2010.
"I had served 10 years as a university president but I didn't know there were so many administrative procedures to go through," Zhu said.
"To build a university that concentrates on research, SUSTC faces a long, hard slog which is barely possible with the country's educational laws and regulations," Zhu said.
According to those regulations, a new university may only grant associate's degrees and must undergo years of inspections and examinations from education authorities before it can gain the right to grant bachelor's degrees and master's degrees.
However, SUSTC could not attract talented researchers without offering postgraduate education, so Zhu decided the university would grant its own academic diplomas, which come with no guarantee that they will be recognized by the government.
"I fully understand that the students were facing pressure from both society and their parents," Zhu said, referring to the five candidates for the university's first class who turned down the school's enrollment.
Zhu had planned to recruit 50 students for the first academic year. Only 45 of them showed up for registration on Feb 28.
"Before the enrollment of the students, I could choose to quit SUSTC anytime. But now I have to go on because they've tied their fates to mine," Zhu said.
Zhu hopes the government can abolish some outdated laws, for example, the regulations concerning academic degrees.
He said some of the current educational regulations were issued decades ago, when education philosophy did not emphasize the innovative research capacity of students.
"We can only make a dynamic university from scratch, from the first people we recruit," Zhu said. "You can't make changes to existing universities, just like you wouldn't build a luxury flat on the foundation of a pigsty."
Xin Dingding and Shan Juan contributed to this story.
China Daily
(China Daily 03/09/2011 page2)