BEIJING - About 19 percent of Chinese women who are in management positions hold the title of CEO, the second highest percentage recorded among 39 countries and regions included in a recent survey, a report from a leading accounting firm showed on Monday.
Related readings:


 Women lead the way in tourism


 Women becoming initiators of more divorces


 Career women more at risk from heart attacks


 Family role obstructs HK women's career: survey
The result for China is significantly higher than the average figure for the world, which is 8 percent, according to the 2011 Grant Thornton International Business Report.
The Asia Pacific region, if Japan is excluded, is home to a much higher percentage of female CEOs than are Europe and the United States, the report said.
Leading the way is Thailand, where 30 percent of companies employ female CEOs. Next in the order is the Chinese mainland, where the figure is 19 percent, and Taiwan, where it is 18 percent. The number for EU countries, meanwhile, is 9 percent, and it is 5 percent for North American countries.
"Chinese women are just as capable of being business leaders as men," said Guan Liming, senior partner of Grant Thornton Jingdu Tianhua. "In some ways, they outperform male leaders in fields such as team work, communication and coping with different tasks simultaneously."
Women now hold 34 percent of the senior management positions in China, a number that has risen from the 31 percent reported for 2009.
Throughout the world, the report shows that women now hold 20 percent of the senior management positions, down from 24 percent in 2009.
Thailand has the highest percentage of female citizens who have positions in senior management (45 percent), followed by Georgia (40 percent) and Russia (36 percent).
The countries with the lowest percentages are the United Arab Emirates and Japan, where women hold 8 percent of senior management positions.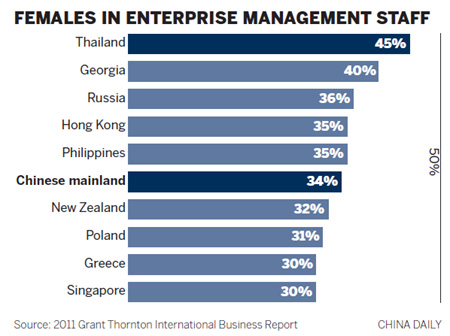 "With China becoming an economic powerhouse, its society offers more opportunities for women's development," said Xu Hua, chairman of Grant Thornton Jingdu Tianhua.
The percentage of Chinese women who have attained a higher education has increased rapidly in recent years. Forty nine percent of university students are women.
Meanwhile, evidence suggests that Chinese women are more ambitious than their counterparts in other countries. According to research conducted by the magazine Newsweek, 75 percent of Chinese career women aim to have positions in senior management, while the figure is 50 percent for the US.
Of the companies that employ women in senior managerial positions in China, 69 percent have them working in financial positions such as chief financial officer and finance director. The next most common jobs are human-resource director (43 percent), sales director (37 percent) and chief operating officer (23 percent), according to the research.