Woman touches hearts by reaching out to students in the greatest need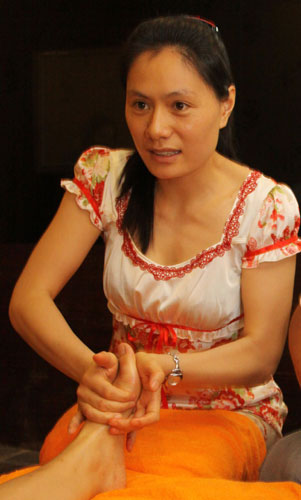 Liu Li, 31, works as a foot masseuse in Xiamen, Fujian province, on June 19. At an award ceremony presented by China Central Television on Feb 14, she was voted one of the 20 people who touched the hearts of Chinese in 2010 for her years of helping poor students. [Photo/China Daily]
XIAMEN, Fujian - One doesn't necessarily have to lavish millions of dollars on charities to be called a philanthropist. Liu Li, a migrant worker in Xiamen, proves that every little bit of help to those in need counts and could lead to nationwide recognition.
Liu became a national celebrity in February when she was voted one of the 20 people who touched the hearts of Chinese in 2010. The nation's top award was presented by China Central Television for ordinary citizens who made remarkable contributions.
Related readings:


 An example of charity


 More US billionaires pledge to give away wealth


 China gets charitable as it grows


 Beijing looks at laws on philanthropy
Regarded as "the most beautiful foot masseuse in China", Liu built her fame through years of charitable giving to keep students from dropping out of school due to poverty.
She divided her monthly income of slightly over 3,000 yuan ($450) into three parts: one for her daily expenses in Xiamen, one for her parents at home and the rest for the 52 school children she has been subsidizing for eight years in hopes of giving them a chance to fulfill a dream she herself failed to realize - getting a university education.
"If someone would have given me a hand when I was a child, I might have become a teacher or a doctor," said 31-year-old Liu, born and raised in a remote village in East China's Anhui province.
She had thought she could have become her village's first college student because she had always been an A student.
However, as the eldest sister to four siblings, she had to give up school at the age of 14, like most of her peers in the village.
On the day she left the village, Liu vowed to make enough money to help one or two students from her village go to college, and at first pinned her hope on her four younger siblings.
She worked as a waitress and nanny before going to Xiamen in 1999. Liu remembered the day she arrived.
"I was penniless, helpless and desperate, but there was one thing I knew: I would never beg for money," Liu said.
She decided to sell her long hair, which she had been growing ever since she could remember, for 30 yuan, and managed to find a job as an apprentice in a massage center.
"It was really painful when I first started, for the hard work caused blisters on my hands," said Liu, whose knuckles have grown disproportionately large.
But Liu loves the job, considering it a job close to her childhood dream profession - a traditional Chinese medicine doctor - as both aim to help people stay fit.
Working hard day and night, Liu quickly established herself and started sending money to her parents. But during a visit home in 2002, she found all her efforts had been in vain.
"My parents wouldn't let me in because they thought I was working in the red-light district," Liu said.
To make matters worse, all four of her siblings had failed the college admission test.
"I thought about suicide but I couldn't, because I hadn't fulfilled my promise," Liu said.
Liu admitted she felt at quite a loss for a while, but she soon pulled herself together.
During the visit to her hometown, Liu noticed there were still children facing the same problem she had faced.
Back in Xiamen, Liu tried every opportunity to raise money to prevent them from following her path.
"I once asked a rich guest if he could donate to children in poverty, and he told me he would donate as much as I want if I would sleep with him," Liu said. "That's when I realized philanthropy could not entirely depend on other's handouts."
She has since relied on herself, trying her best to support any school-age children in need. And with work taking up more than 12 hours of her day, Liu remains single.
"My colleagues often tease me saying, 'no one dares to marry a woman like you unless he has a fortune of more than 100 million yuan - you've got so many children to support," Liu said.
Thanks to her constant charitable efforts over the years, Liu has become famous in Xiamen. Many people, touched by her good deeds, have joined her, becoming members of three online groups set up by Liu to help dropout students. The groups now have more than 400 members.
Although Liu has helped dozens of children, she still lives in an apartment shared with eight other colleagues. But she has managed to run a new massage center with a few friends.
"I hope to buy a small apartment in Xiamen, but that will have to come after I realize my first dream to help a student from my village become a college graduate," she said.
At the same time, Liu hasn't completely given up her college dream. She has started an online course in business administration management.
"I hope I can become a more competent person so I might help more people," Liu said. "Honestly speaking, I also hope more people can join me in such endeavors."