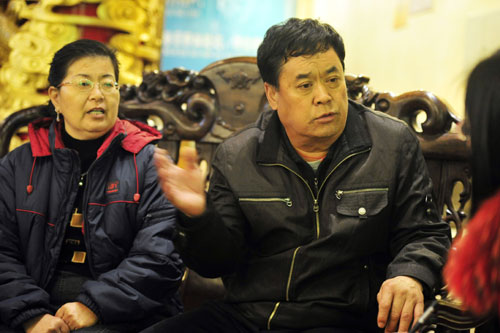 Huang Zhanshi and his wife Cao Ye from Jinan, Shandong province, talk about their evacuation from Libya after arriving home safely on Feb 28. [Photo/China Daily]
JINAN - Huang Zhanshi is back in China enjoying a happy family reunion, having survived what he described as a nightmare in Libya.
"It was like I was in a bad dream, struggling to make my way home," Huang, from Jinan, capital of East China's Shandong province, told China Daily.
"Now I am really at home safe and sound. This is all because we have a strong motherland that cares for us," he said.
Related readings:


 Home thoughts after journey out of danger


 35,860 Chinese nationals in Libya evacuated: FM


 Gaddafi addresses supporters at public ceremony


 Chinese air force evacuates 751 from Libya
Huang, 58, a manager at China Construction Eighth Engineering Division Qingdao Branch, was in charge of one of 10 projects building 20,000 houses in Benghazi, the second-largest city in Libya.
More than 10,000 workers and managers were working for the housing projects in Libya, including some from Bangladesh and Vietnam.
Huang arrived in the country in October 2008, and his wife arrived at Benghazi as an accountant in October 2010.
"Before the riots, Libya was stable and safe," Huang said. "But in early February, local workers told us that a large-scale demonstration would happen across Libya on Feb 17."
Hearing that, Huang and colleagues stored enough flour, rice, oil, gas and daily necessities to last 1,000 workers for two months.
At the same time, Huang found notices posted by kind-hearted local people warning the rioters, reading: "These Chinese friends are coming here to help us build our home country. Leave them alone and don't destroy our home country."
The demonstration came earlier than expected on Feb 16. Huang and his team were attacked by around 20 locals with stones that night, Huang said.
The situation worsened the following days with local police stations and government organizations destroyed.
On Feb 20, Huang and his colleagues were attacked again by more people armed not only with stones, but with knives and shotguns.
"Several workers were injured by stones and one worker was injured by bullets when he drove an excavator digging moats, trying to stop the rioters," Huang recalled.
"To ensure our safety, we gave up all of our belongings, including engineering equipment, and moved together to a safe place.
"Most of the valuable items, including tractors, shovel cars, computers, air conditioners and water fountains were taken away by the rioters."
Huang and his colleagues were told to get ready for evacuation on Feb 22 as the situation had become chaotic and construction work couldn't be done.
"We were notified to withdraw at 7 am on Feb 23 and our country had arranged vessels at Benghazi port to get us," Huang said.
Evacuees were organized into several teams under the principle of the elderly and women first. Huang was responsible for organizing the team of around 2,000 people including some workers from Bangladesh and Vietnam, who were set to leave first.
They had to walk to Benghazi port, 15 kilometers away from their construction site, as their vehicles had been stolen.
"We were lined up in 40 groups and each group consisted of 50 evacuees," Huang said. "On our way to the port, some nice locals gave us bread and water. I do think most of the Libyans are friendly to us."
When they arrived at the port at 8 am, Huang said they saw two vessels floating on the sea but couldn't approach the berth as nobody was on duty to arrange customs procedures.
The Chinese embassy tried every means.
"Finally, we succeeded after rounds of negotiations with locals, and were aboard the vessels at around midnight," Huang said.
On the vessels, Huang met Chinese embassy staff and learned three vessels were chartered in Greece by the Chinese government to send them to Crete in Greece and then they would take flights back to China.
Fourteen hours later, Huang and his fellows arrived at Crete. The injured were sent to hospital and the rest were put up in hotels.
"The Chinese embassy staff members were very efficient. We got settled in the hotel very soon," Huang said.
Some of his colleagues at the financial department of Huang's company had also arrived in Greece to ensure that the company's foreign employees - those from Bangladesh and Vietnam - got paid and could return home safely.
"We also received great help from the Chinese in Greece. They have taken care of us like a big family," Huang said. "They brought us phone cards to call home as none of us had any means of communication. Some also brought water and food."
Huang recalled one of the Chinese in Greece as saying: "Our country is getting you home and it is our duty to do what we can to help you here."
Huang and his wife, as well as more than 1,000 of his colleagues, arrived in Beijing on Feb 28.
"I'm really proud of being a Chinese. Our motherland is always with us when we encounter hardship," Huang said.