XI'AN - When Han Qinglong arrived in Beijing last Friday, the capital city was warm and the sky blue.
"It was a very pleasant day, just like I felt inside," recalled Han, head officer of the Heritage Inspection Team under the Xi'an Public Security Bureau, Shaanxi province.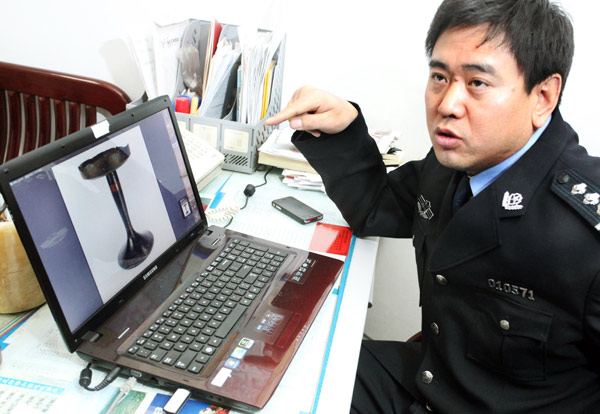 Han Qinglong, head officer of the Heritage Inspection Team under the Xi'an Public Security Bureau, shows a cultural relic that was retrieved from the hands of tomb robbers, on Jan 11. [Provided to China Daily]
The 46-year-old policeman, who has been fighting tomb robbery and smuggling of cultural relics during the past five years, arrived in Beijing to clear customs for the return of five Tang Dynasty (AD 618-907) murals illegally sold to a buyer in the United States in 2005.
This is the second batch of cultural relics Han has helped bring back from overseas since 2005.
Eight months earlier, Han also saw to it that a 27-ton stone coffin from the Tang Dynasty arrived safely at the Shaanxi History Museum, four years after it was smuggled out of the country.
"It was the first time China took back an ancient relic of such large weight and size, as well as of such high cultural value," Han said.
The policeman, standing 1.88 meters tall, played on the Hebei provincial basketball team from 1980 to 1990. After helping his team win its only national basketball championship in 1990, Han retired and came to Xi'an, where his girlfriend lived, and became a policeman.
In March 2005, Han joined the heritage protection department of the city's public security bureau.
During the investigation of a tomb robbery in February 2006, Han and his team accidentally found out about the sarcophagus.
They seized a computer from a suspect's house containing a number of pictures taken of the relic and local archaeologists soon identified what it was -- a sarcophagus stolen from the tomb of Tang Dynasty empress Wu Huifei (AD 699-737) in Xi'an.
"We found that the criminal group was well organized with a clear division of labor. It was a large criminal gang with more than 10 members separately responsible for the excavation, sale, repair, trafficking and smuggling of relics," Han recalled. "The group had been in Xi'an and (nearby) Xianyang for a long time robbing a number of ancient tombs."
On Feb 13, 2006, Han's team successfully busted the tomb-robbing gang, arresting 13 suspects and seizing a large number of tomb excavation tools.
"Confronted with a large amount of evidence, the suspects confessed to stealing the relics and selling them to the United States," Han said.
Han and his team were rewarded by the Ministry of Public Security and Xi'an Public Security Bureau.
But Han continued his effort on the case, trying to trace the smuggled relics.
"We sent the materials about the stolen sarcophagus to Interpol, and domestic and international non-governmental organizations keen on Chinese heritage protection," Han said. "Later in July 2007, we learned the rare relic was in the hands of an antiques dealer in the United States."
With the help of a connection in the US, they contacted the businessman and asked for the relic back, telling him they would seek help from Interpol if necessary.
"After three rounds of negotiations, he agreed to unconditionally return the relic to China," Han said.
Over the past five years, Han and his team have successfully cracked more than 50 serious cases and retrieved some 2,300 ancient relics.
"The number of relics we seized over the past five years is more than the total during the period from 1949 to 1995," Han said.
He said this suggests the pillaging of Chinese antiques is getting more serious, as thieves, driven by a thriving global market for the relics, loot and smuggle artifacts to sell in foreign countries.
This is especially true in a city like Xi'an with a history of more than 3,000 years.
Xi'an has been attracting relic robbers and smugglers, as it served as the capital city for 13 dynasties spanning more than 2,000 years of history, Han said.
"There are thousands of imperial and high-ranking official tombs under its ground, and as many ancient buildings and other relics above," the officer added.
On the other hand, Han continued, the country is working hard to protect its cultural relics and trace its looted and smuggled relics.
For example, Han said, the return of the above two Tang Dynasty relics couldn't have been possible had the country not signed agreements with the US and 12 other countries imposing import restrictions on relics.
"These agreements have allowed us to trace our smuggled relics through legal means," Han said.
With only 17 members in his team, Han said he feels as much responsibility as pressure at work, considering the large number of relics the city boasts.
"But to protect the heritage left by our ancestors is our sacred mission and responsibility," he said.