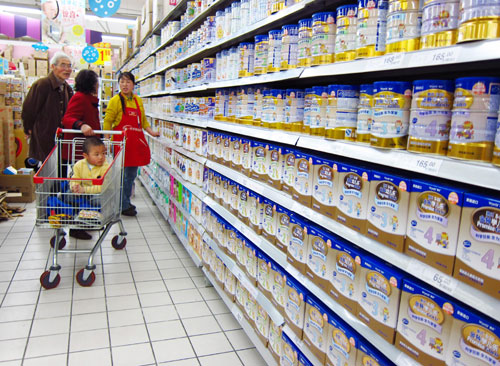 A saleswoman (right) shows dairy products to consumers in a supermarket in Beijing on Monday. [Photo/China Daily]
Beijing - A recent survey found some 70 percent of Beijing residents are reluctant to buy domestically produced infant formula because of food safety concerns, even though the latest official test report said there is "no significant difference" between domestic dairy products and their overseas rivals.
A market survey held by the State broadcaster China Central Television found that, of those polled, nearly 70 percent preferred imported milk powder and had little confidence in domestic brands. The number of people who took the survey was not disclosed.
Related readings:


 70% refuse domestic powdered milk


 HK not intend to levy milk powder export tax


 New inspections to ensure safety of dairy products


 Bright Dairy denies yogurt bid talk
Li Tong, a salesperson from a Beijing-based dairy store, told CCTV that overseas products make up more than 70 percent of their sales, leaving the domestics brands as the remaining portion.
And that's not the case only in Beijing. Consumers in other Chinese cities also expressed a lack of trust in domestic milk powder.
Wu Peiyuan, a 27-year-old resident from Tianjin municipality, told China Daily on Monday that he would only consider giving his 3-month-old son infant formula that was produced overseas.
"We have been watching the reports that say domestic dairy products have safety issues, such as containing melamine-tainted powder, almost every day," Wu said, adding that his neighbor persuaded him to choose overseas brands.
"Why should I risk harming my baby?" he said. "I spent around 500 yuan ($75) each month on Mead Johnson's products. Those imported products cost me 350 yuan more than domestic brands every month, but I have no other choice."
But at least Wu could find the overseas products that he wants. According to previous media reports, young moms and suppliers in Hong Kong and Macao couldn't. During the Spring Festival this year, they found that mainland consumers had entered local shops and bought up most of the imported powder on the shelves.
A consumer in Beijing, who wanted to be anonymous, said she spent more than 2,000 yuan a month on imported infant formula purchased in Hong Kong, adding that she would only trust imported formula.
But the Dairy Association of China posted a notice on its website on Monday, saying test results from one of China's most distinguished laboratories concluded that the quality of domestic dairy products is equal to that of the imported variety.
Among 24 samples picked from Beijing's market, 11 were domestic brands and 12 were from overseas. After several quality tests, the result suggested the two groups have "no significant differences", including in their nutrient contents.
The tests gave no evidence of melamine or leather-hydrolyzed protein.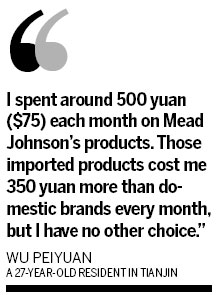 Song Kungang, chairman of the association, told Xinhua News Agency on Monday that the test result demonstrated that domestic infant formula is safe. He said he is confident of the product's quality.
In 2008, baby formula tainted with melamine and industrial chemicals killed at least six infants and caused kidney troubles for more than 300,000 children throughout the country.
The scandal led to public panic and roused ceaseless concerns over the quality of domestic dairy powder. In the latest incident, media claimed in early February that dairy products containing leather-hydrolyzed protein, a banned additive, were still being sold in the market.
In November, the General Administration of Quality Supervision, Inspection and Quarantine released a new regulation demanding that dairy manufacturers reapply for their production licenses.
Song Kungang said among the 139 producers that had possessed production licenses, about 70 were successful in having them renewed before this past Thursday.
He said half of the dairy powder made in China goes into infant formula and the large producers of domestic infant formula are responsible for 54 percent of all infant formula churned out in China each year. About 560,000 tons of infant formula were made in 2010, 12 percent fewer than the year before.
On the other hand, overseas dairy powder has made rapid gains in China's market in the past two years. From taking 40 percent of the market share in 2008, it went to having almost half in 2010. Customs statistics indicate the country imported 400,000 tons of milk powder in 2010, reaching a record high.
Sang Liwei, a Beijing-based lawyer, warned that the increasing popularity of overseas milk powders may hurt the domestic dairy industry and spark more consequences.
"There is a chance they will raise the products' prices as much as they need once they dominate the market. That will eventually harm domestic consumers."