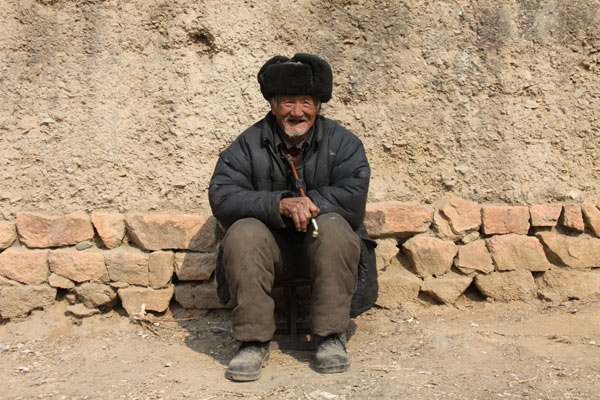 A man smokes at a village in Rizhao, East China's Shandong province in this Feb 5, 2011 file photo. [Photo/chinadaily.com.cn]
KUNMING - China's senior population over 60 years old will number around 216 million by 2015 with an annual net increase of over 8 million, said China's civil affairs minister at conference held here Friday.
In the next five years China's aging population problem will worsen, said Minister Li Liguo, also deputy director of the country's National Committee on Ageing (the Committee).
Li noted that the annual net increase of the senior population for the next five years was likely to be greater than the country's total population increase over the same period.
By 2015, the number of people older than 80 will reach 24 million, he added.
He said the aging population problem was complicated by China's widening gaps between urban and rural areas, between regions and between people's incomes.
Nevertheless, according to an assessment administered by the Committee last year, the past five years had witnessed remarkable progress in China's work on aging.
Li noted that the pension program for rural seniors had expanded quickly since its inception in 2009.
Also, besides the construction of nursing institutions for the aged, a family-based nursing mechanism had been promoted in urban areas and was to reach the countryside soon, he said.
According to a statement from the State Council last week, the country's public health care services would provide free health checks each year for citizens above the age of 65.