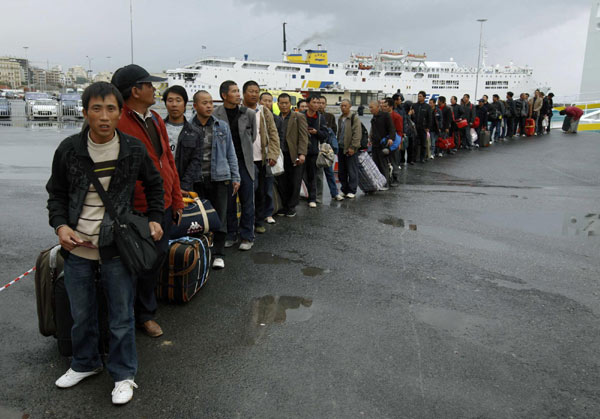 Evacuees from Libya line up at the port of Heraklio on the island of Crete February 24, 2011. Two Greek passenger ships sailed from Libya to the island of Crete with about 4,500 evacuees on board, including Greek and Chinese nationals. [Photo/Agencies] 
BEIJING - In one of its largest-ever withdrawal efforts of nationals from abroad, China has been working hard to evacuate its tens of thousands of nationals from riot-torn Libya in the past few  days.
Some 12,000 Chinese nationals have so far been evacuated from the north African country, Chinese Vice Foreign Minister Song Tao said early Friday morning.
Song told reporters about the latest figure at the Beijing International Airport shortly after welcoming back 224 Chinese flying home by taking the first chartered plane sent by the Chinese government to evacuate its nationals from Libya, which arrived at the airport at 2:15 a.m.Friday (GMT 1815 Thursday).
The Air China CA060 flight, which flew Wednesday to this north African country thrown into chaos by anti-government uprisings and protests, left Libya's capital Tripoli Thursday afternoon.
So far, the Chinese government has sent two chartered planes to evacuate its nationals from Libya, carrying task groups and emergency relief materials.
The second chartered plane has also departed Egypt's Cairo, taking another batch of Chinese back home. The plane is expected to arrive in  Beijing at 9:00 a.m. Friday local time (GMT 0100).
In the past few days, the Chinese nationals in Libya, mostly employees of Chinese companies with businesses in Libya, had been evacuated to neighboring countries including Greece, Egypt and Tunisia by ocean liners, airplanes or coaches, according to the Foreign Ministry.
The evacuated Chinese on board the first chartered plane are mainly engineers and technicians working in Libya and their family members.
They said they were frightened but now feel safe after coming back home.
"We almost burst into tears when we heard that our government had chartered a plane to take us back home," Jiang Ying, a mother of a 20-month baby from the central Hubei Province, told Xinhua.
Jiang, who went to Libya last June to join his husband working for a communication company, said it had been hard to even get food and water in Libya and they could not sleep at night.
"My husband is still there, I hope he and his colleagues can come home safe as soon as possible," she said.
The 224 nationals were warmly welcomed at the airport by You Quan, a senior official of the State Council, and some other officials from the Foreign Ministry and other departments.
Vice Foreign Minister Song Tao hailed the arrival of the first chartered plane as "important progress in the evacuation of Chinese nationals from Libya."
The Chinese government has been evacuating the nationals by air, sea and land routes, involving chartered planes, hired ocean liners and coaches.
Meanwhile, according to the information office of the Chinese Defense Ministry, a Chinese navy frigate of the "Xuzhou" fleet, which had been conducting its escorting mission in the Aden Gulf, has left for the waters surrounding Libya to provide support and protection for the ships evacuating the Chinese nationals.
However, the vice foreign minister noted that the evacuation work faces challenges as there are still a large number of Chinese stranded in Libya and the situation in Libya remains complicated.
He said the foreign ministry will continue to work with relevant departments, embassies abroad and the Chinese enterprises in Libya to evacuate all the Chinese from Libya in a safe and orderly way.