45 airports will be built, 700 planes to join the fleet as blueprint drafted
BEIJING - China plans to invest 1.5 trillion yuan ($228.2 billion) in the aviation industry, building 45 airports and adding 700 new commercial planes, over the next five years to meet surging demand, a top regulator said on Thursday.
Related readings:


China to invest 1.5t yuan in aviation sector 


Aviation market predicted to grow by 2014 


Aviation special :Aircraft deliveries hit record high 


Aircraft maker eyes China's regional aviation market 
The figure is half a trillion yuan more than that for the previous five years, Li Jiaxiang, head of the Civil Aviation Administration of China (CAAC), told a news conference.
By 2015, the country is expected to have 220 commercial airports and its fleet size will expand to more than 4,500 planes, according to Li.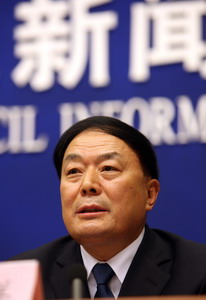 Li Jiaxiang is head of CAAC. 
"The ability of the civil aviation sector to serve the national economy and the public will be further strengthened," Li said.
The country currently has 175 commercial airports in operation and keeps more than 2,600 aircraft in its fleet, he said.
In the next five years, the commercial aircraft fleet, which stood at more than 1,600 in 2010, will expand by some 700 planes, a scale similar to the growth in the past five years.
The number of commercial airports will increase by 45, mostly regional, in the next five years, compared with the 33 new airports completed in the past five years.
Despite concerns over losses reported by many regional airports, the construction process will be speeded up over the next five years, he said.
Li admitted that 130 out of the 175 airports reported "a rather small amount" in losses last year, totaling 1.68 billion yuan. But "regional airports are public infrastructures, and their construction should not be profit-driven", he said.
Besides, regional airports have brought large economic and social benefits to local communities, which "is why many local governments are still willing to subsidize their operations, despite losses", he said.
The airport in Huai'an, Jiangsu province, which opened for operations in 2010, has attracted 61 foreign-invested companies to settle in the city, while an airport in remote Tengchong county in Yunnan province boosted local tourism, with the county's GDP rising 56 percent since it opened in 2009.
Also, after a magnitude 7.1 earthquake shook Yushu in Qinghai province, killing 2,687 people, the local airport played a major role in disaster relief. Airlines transported nearly 3,000 injured people for treatment and prevented the death toll from rising further, he said.
As proof of the enthusiasm of local governments to develop civil aviation, he said top officials from 29 provinces and regions visited the CAAC last year to discuss building airports and opening new routes.
Li Lei, a civil aviation analyst at CITIC China Securities, said the increase in the number of airports will also benefit the entire industry.
"With more airports built, it will drive market demand for civil aviation."
Besides building more airports and increasing the fleet, the CAAC will also take measures to strengthen airline competitiveness in the international transportation market over the next five years, Li Jiaxiang said.
He cited statistics saying that foreign airlines are gaining an upper hand in the country's lucrative international travel market.
Statistics showed domestic airlines account for only 46 percent of China's international passenger market and less than 30 percent of China's international cargo market.
The administration will boost the industry's overall strength by nourishing large-scale aviation hubs and super-network carriers, he said, without elaborating.
Some analysts have expressed concerns that State-controlled airlines are too well-supported and resourced, but Li noted that the CAAC encourages the development of privately owned airlines as well.
China has 43 airlines - eight privately owned or controlled and 35 State-controlled. Of these, 16 are joint ventures.
The CAAC will soon accept three applications for establishing private airlines, he said.
Demand for air traffic is booming as the world's second-largest economy roars ahead on near double-digit growth and increasingly affluent Chinese people travel more frequently.
A total of 267 million air passenger trips were recorded in China in 2010, up 15.8 percent from the previous year, official figures showed.
Domestic airlines reaped profits totaling 35.1 billion yuan in 2010, accounting for 60 percent of the world's total, CAAC statistics showed.
The rapid development has benefited foreign aviation industry players as well, amid a huge demand for aircraft and airport facilities, according to Li.
Of the 200 billion yuan in commercial deals China made in November when President Hu Jintao visited France, 104.1 billion yuan was spent on civil aviation-related goods.
Also, when President Hu visited the United States in January, $19 billion out of the total $45 billion in commercial deals was spent in the aviation sector.