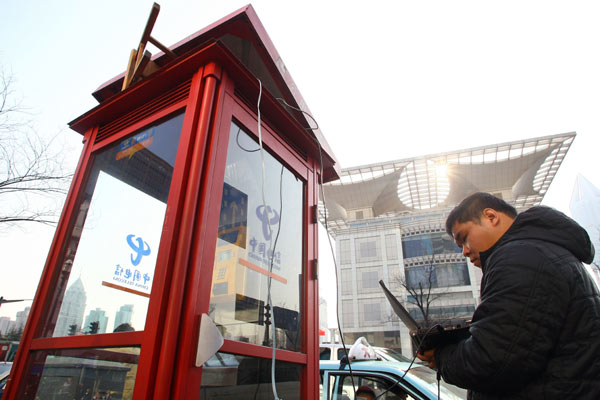 A man surfs the Internet with a WiFi signal provided by a telephone booth in downtown Shanghai on Feb 24. PROVIDED TO CHINA DAILY
SHANGHAI - A total of 500 public telephone booths in downtown Shanghai have been equipped with WiFi hotspots to enable the city to go wireless, bringing new life to the almost abandoned public phone booths.
The move reflects the popularity of mobile communication and the booths will provide a variety of community services such as mobile phone bill payment. In the future the booths might even function as photo printing studios.
The idea was first inspired by the multi-function information stations provided by China Telecom's Shanghai branch during Expo 2010 Shanghai, Zou Jinqiu, a manager at the Shanghai branch of China Telecom, told China Daily.
"Once these WiFi hotspots start to work, the major part of the city will be covered seamlessly by wireless signals," she added.
The WiFi hotspots will be initially installed in central business areas such as Yuyuan Garden, Yanzhong Park and People's Square, and will be expanded to cover the whole urban area and some suburbs, the company said. China Telecom did not give details on the timeline for the process.
With all public phone booths providing strong wireless signals, people will be able to surf the net within 50 meters of the booths by paying 0.03 yuan per minute.
"I do appreciate this upgrade," said Cui Qi, a 29-year-old high school mathematics teacher. Cui regularly uses mobile wireless communications, relying on GPRS and EDGE (enhanced data rate for GSM evolution) systems on the current 2G network.
"Compared to them, these hotspots will provide faster access," Cui said. "And previously such a WiFi service could only be obtained at cafes and hotels."
Xiang Ligang, chief executive of cctime.com, a mobile communications website, said: "The public telephone booths seem to be like relics of old times and, to be frank, have become useless."
A veteran of mobile technology, Xiang said he regarded the idea of converting telephone booths as "a good try".
"Apart from WiFi service, public telephone booths can also provide valuable services, such as providing anti-virus software or updated software to users," Xiang said.
"However, it is a bit awkward for people to hold their mobile devices close to the booth," he said. "Those WiFi routers can be installed anywhere on the street."
Xiang said that telecom service providers should pay more attention to research on users' behaviors and consumption patterns.
"It is a great opportunity to provide good services at the booths," he said.
China Daily
(China Daily 02/25/2011 page5)