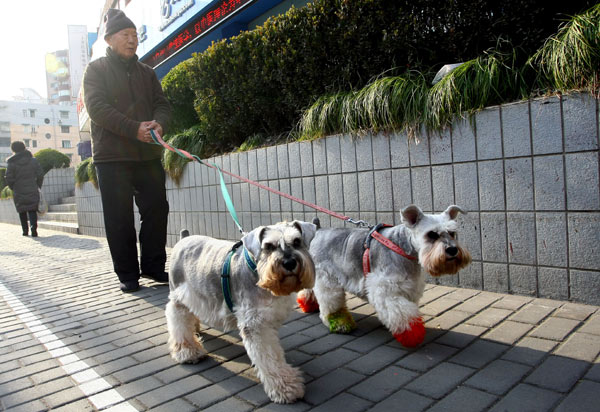 A resident walks dogs on a street in Shanghai on Feb 12. PROVIDED TO CHINA DAILY 
SHANGHAI - Residents living in downtown Shanghai will be allowed to raise only one dog in each of their households when a new regulation takes effect on May 15.
The rule, which has been a subject of debate since it was first proposed, was passed by the city's legislature on Wednesday.
Even so, local lawmakers have yet to reveal what the punishment will be for those who raise more than one dog or to say who will be responsible for enforcing the rule.
The regulation, although it seeks to prevent households from having more than one pet, says families that already have two or more licensed dogs do not have to give up pets. According to estimates, Shanghai contains 600,000 unlicensed dogs, which is about four times the number that are registered.
The new rule also mandates that every dog older than three months be regularly vaccinated against rabies and undergo annual examinations. Otherwise, the owners will face fines ranging in amount from 200 yuan ($30) to 1,000 yuan.
The rule drew mixed reactions from the public.
"I'm going to either give my second dog away to friends or relatives or just keep it, all depending on how strictly these regulations will be carried out," said Wang Xizi, 25, who keeps two unregistered terriers in the 120-square-meter apartment she rents in Zhabei district.
"The two dogs I have are a Yorkshire and a Bichon," she said. "They're tiny and I don't often walk them outdoors. I don't think (police) can just break in (my apartment) and take them away from me."
Zhang Yuanhao, the owner of a pet house in the city's Jiading district, said many of his clients own three or more dogs without having the proper licenses.
"I heard them talking about registering the dogs under their friends' or family's names to avoid giving them away," Zhang said.
Zhang said it will be hard to carry out the new policies, especially in some outskirt areas.
"For example, in Jiading, despite the fact you only need to pay 100 yuan a year to keep your dog, residents here just don't have the motivation to register them," he said.
The new rule lowers the price of obtaining a pet licensing to encourage owners to go through with registration, although the new prices still must be decided. Local authorities now charge about 2,000 yuan a year for each dog in downtown Shanghai.
The new rule also offers a 50 percent discount to owners who have documents showing their dogs have been spayed or neutered. Alongside those carrots, there is also a stick.
The new rule is the first in China to subject dog owners to punishments if they abandon or abuse their pets.
"It's a good idea," said Tony Qu, a pet trainer who runs a dog school in Shanghai.
But he expressed doubts over whether the rule's punishments are enforceable or will have the desired effect.
"How can you trace who abandoned the dog, for example?" he said. "And it says in the new rule that you won't be able to keep another dog for five years if you're caught dumping an old dog. But who would keep a new dog if he decided to throw away the first one?"
Qu said animal abusers should have records of their misdeeds attached to their credit-card reports, so that "no one will abuse pets any more".
Many observers said the regulation is a compromise between residents who have been annoyed by neighbors' dogs and dog lovers worried by the increasing number of stray dogs.
Meanwhile, the issuance of new pet licenses in Shanghai has been suspended until May 15. A drove of license applications is expected to come in after that date.
China Daily
(China Daily 02/25/2011 page5)