BEIJING - China will take stronger action to resolve social conflicts and ensure there is a harmonious and stable society, says a senior official in charge of public security affairs.
Related readings:


Hu urges improved social management for greater harmony, stability 


Hu points way to harmony, stability 


China's religious circle pledge harmony 
Chen Jiping, deputy director of the Central Committee for Comprehensive Management of Public Security, made the comment after repeated calls from the nation's leaders for enhanced social management and innovations to resolve such problems.
In the Monday issue of the Beijing-based magazine Outlook Weekly, Chen noted social conflicts were "prominent" and said so-called mass incidents were "frequent occurrences".
He attributed such problems to imbalanced and uncoordinated development that has led to differences between urban and rural areas and to a wide income gap.
"Because social management and services are lagging behind social development, we may frequently face social conflicts," he said.
Chen also listed specific security problems that "we cannot afford to ignore".
"Various conflicts frequently occur in certain regions," he said. "They mainly involve land seizures, corporate reforms, labor disputes, medical disputes and occasionally lead to mass incidents and extremism."
In July 2009, a senior executive was beaten to death when 3,000 steel workers who had been threatened with job cuts protested following the takeover of their company in Tonghua, Jilin province.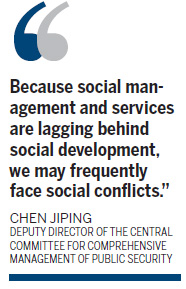 And in September 2010, three members of a family surnamed Zhong doused themselves in gasoline and set themselves ablaze to protest the forced demolition of their home in Yihuang county, Jiangxi province. One died and two were seriously injured. The local Party secretary, the governor, a vice-governor in charge of the demolition and other responsible officials were later investigated and removed from office.
Chen said the resolution of social conflicts and the safeguarding of social security "would not only be a key task for political and legal leaders this year but remain a very difficult and onerous task during the period of the 12th Five-Year Plan (2011-2015)."
His comments were published days after President Hu Jintao said the country was "still at a stage where many social conflicts are likely to arise". He said: "There are still many problems with China's social management" despite its remarkable development.
At a high-profile seminar on Saturday, Hu urged provincial and ministerial-level officials to recognize the significance of improving and innovating social management as a prerequisite to pushing forward with the country's development and building a harmonious society.
Zhan Zhongle, a professor in administrative law at Peking University, told China Daily it was a "positive sign for the authorities to face social conflicts directly, rather than simply shunning them".
"Ignoring people's concerns will leave them no other option but to complain through letters and visits or resort to extreme actions," Zhan said. "Integrating the resources of the government and judicial bodies to mediate conflicts is more efficient in stabilizing the society."
According to Chen, social management has been set as a key index in the assessment of the performance of government and Party leaders.
Chen told the magazine that a risk assessment of threats to social stability should take place before any decisions are made on major projects and policies.
"We shall not allow inappropriate decision-making to cause social conflicts," he said.
Professional mediation organizations will be established or enhanced to play a bigger role in resolving conflicts in sectors such as demolitions, labor disputes, medical disputes and for food and drug safety.
And more efforts will be made to investigate cases exposed by whistleblowers, with special attention given to prominent problems affecting social stability, he said.
Chen also vowed to further crack down on gangs, violent crimes and property-related crimes.