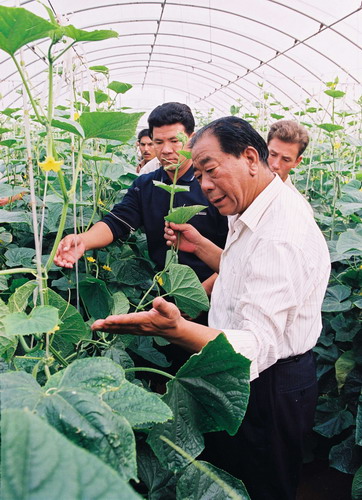 Wang Leyi, who invented a greenhouse technology in 1989 that enables farmers in northern China to grow vegetables even at the coldest times of the year, shows visitors around a green house in this file photo. [Photo/provided to China Daily] 
SHOUGUANG, Shandong - There were almost no fresh vegetables in northern China during winter before Wang Leyi.
Related readings:


China allocates $228m for vegetable supply 


China vegetable prices fall for fifth week 


Central bank to lend $1.5b to drought-hit areas 


China's drought-hit areas to see rain 
And Wang's work in the development and promotion of greenhouse technology has also greatly diminished the impact of the drought affecting the region.
Shouguang, a city in East China's Shandong province, is the hometown of Wang and birthplace of the country's greenhouse technology.
The Shouguang Agricultural Product Logistics Park, which is the country's leading wholesale vegetable center, ensured that about 15 million kilograms of vegetables hit markets nationwide during this year's Spring Festival.
Wang developed the technology in 1989 and has since improved it so that the greenhouses can reach temperatures of up to 30 C inside, even when it is below freezing outside, without any additional heating. Produce grown in these structures requires less water, too.
The farmer from Shouguang's Sanyuanzhu village has since brought his greenhouse technology to nearly 30 provincial-level administrative areas nationwide.
About three quarters of the 547 square kilometers of vegetables now growing in Shouguang are ripening in its nearly 460,000 greenhouses, Wang said.
Wang has been Sanyuanzhu's chief since 1978. He and the residents attempted to increase local incomes during the early 1980s and built 20 greenhouses in the village in 1986.
"Keeping the greenhouses warm throughout the winter required burning between 4 and 5 tons of coal," Wang recalled.
"Even at that, we could only grow leafy vegetables. Fruits, such as cucumbers and tomatoes, wouldn't grow well in these structures. They needed higher temperatures."
Wang started thinking of ways to build greenhouses that did not require burning coal and could grow fruits in winter.
"It was an impossible dream at that time. But I finally got support from the village committee and went to learn about more advanced techniques," Wang said.
The farmer was then recovering from bowel surgery and had a colostomy bag. He put up with the pain and inconvenience to visit farmers who had been reaping good harvests from greenhouses in Beijing and five provinces.
Wang took careful notes of what he learned from them and from radio broadcasts.
He used what he learned to upgrade his village's greenhouse operations when he returned home. Wang suggested, among others, that farmers position the structures to harness the maximum amount of sunlight and ensure stable temperatures. He also improved insulation methods.
Wang's innovations enabled local greenhouses to produce fruits during even the coldest times of the year.
But villagers were wary of the 6,000 yuan ($913) per unit cost of constructing such greenhouses. It took Wang months to convince 16 others to join him in building 17 of the structures in August 1989.
Their first attempt to grow cucumbers was successful. They sowed the seeds in October and harvested fresh cucumbers at the end of the year. By May 1990, the 17 greenhouses had brought each owner's family at least 20,700 yuan.
No family in Sanyuanzhu had ever before earned more than 10,000 yuan a year.
The rest of the locals immediately got onboard. Within a year, 144 greenhouses were constructed with assistance from the village and banks. The average household income in Sanyuanzhu rose to 10,000 yuan within a year.
"Some villagers told me to keep the technology secret from people outside," Wang said.
"But I insisted we popularize it because we developed it based on different localities' experiences. Besides, we can benefit more from expanding the scale."
In 2010, Sanyuanzhu's average per capita income was 12,600 yuan and Shouguang's was 9,200 yuan, compared with the national average of 5,800 yuan, according to the city's year-end statistics.
And the villagers have become the country's most sought-after vegetable experts.
About 150 of Sanyuanzhu's villagers are working as agricultural technicians around the country, earning an average annual salary of about 100,000 yuan.
And about 100,000 outsiders visit Wang's village every year to learn about the innovations practiced there.
Wang himself has traveled hundreds of kilometers to teach farmers from 11 provinces about greenhouses, spending at least six months a year on the road. He visited farmers in the Xinjiang Uygur autonomous region 14 times between 1993 and 2005.
Because of the efforts of Wang and other agricultural technicians, 29 of China's 34 provincial-level administrative areas are growing greenhouse vegetables.
President Hu Jintao praised Wang's contribution when he visited the village in April 2005 - a moment of which Wang is exceptionally proud. He has the photos of him with the president displayed on his office wall.
By the end of last year, Wang had helped set up 28 demonstration bases that showcase modern agricultural technology in 13 provinces. These bear his given name, Leyi.
Wang said he plans to build 100 bases in the suburbs of large and medium-sized cities to provide organic vegetables for residents in the coming years.