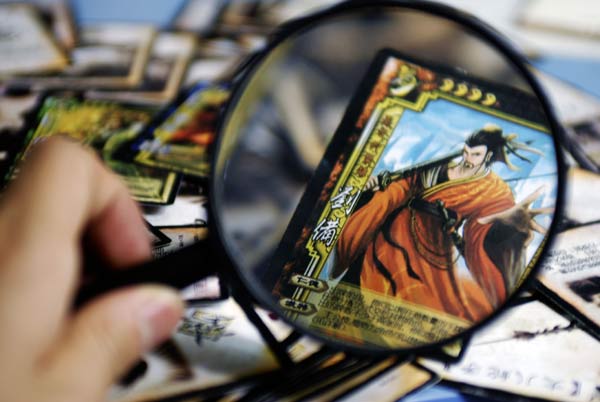 A card from Sanguosha depicts Liu Bei, a character in Romance of the Three Kingdoms. PROVIDED TO CHINA DAILY
BEIJING - Zhang Ziyan, an 11-year-old boy in Guangzhou, Guangdong province, became hooked on a new board game during the last winter holidays.
"Every day I played the game in a neighborhood gymnasium with classmates until 9:30 pm, when the lights were turned off," said Zhang.
Throughout the holidays, Zhang kept studying strategies for the game, which is called Sanguosha, or Killers of the Three Kingdoms, and is the first card-based role-playing game with Chinese elements based on characters from the classic Chinese novel, Romance of the Three Kingdoms.
"Each character in the game is given distinct skills and weapons according to their originals in the novel, and the game made me interested in the history of that period," said Zhang.
The boy is just one of the many children nationwide who have tuned in to the latest craze sweeping the country: modern board games.
An online poll co-conducted by China Daily and sohu.com, a major online portal in China, from Feb 14 to 17 found that 87 percent of the 343 respondents said they often see primary or middle school students playing board games like Sanguosha, and 60 percent of the respondents knew children who were obsessed by such games.
Wang Dong, marketing director of Yoka Games, a Beijing-based company launched in 2008, said Sanguosha is a respectful reinterpretation of the history in the Three Kingdoms (AD 220-280) using cards, and this is the real reason why it has gained nationwide popularity across a range of age groups.
He said the game made a 20-million-yuan ($3 million) turnover for the company in 2009, with the figure rising to 50 million yuan last year.
However, the rapid growth in board game players, especially children, has given rise to new public concerns that the games might have harmful side effects on young players.
"Some characters in the game are scantily clothed, which is unhealthy for children," said a mother in Shanghai surnamed Ding whose 11-year-old boy has also become a Sanguosha addict. "And the unofficial history blended in the game might mislead the children's understanding of the real history."
Xu Jingxi, a 23-year-old who works for a media organization in Beijing, said: "I don't think these board games designed for adults are appropriate for children. The fact that the craze for these games has extended to the young shows that there aren't many good games for children."
The survey showed that more than half of the respondents did not think such board games were beneficial to children.
As more children become fans of games designed for adults, sociologists believe more games that are suitable for children should be produced. These games should have more elements that are good for children's intellectual development, and should not have any sexual content or violence.
"Most games on the market are commercial products. In such circumstances, the education department can take action to design some board games for schoolchildren, because edutainment is also an important part of education reform," said Xia Xueluan, a sociology professor with Peking University.
In addition, experts would also like to see some interactive family games that are specifically designed to strengthen the bonds between children and parents.
China Daily
(China Daily 02/23/2011 page7)