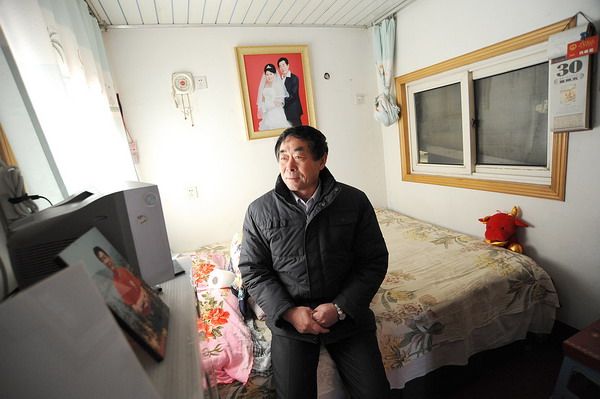 Wang Mingdian, 56, recalls his 18 years of selfless charitable giving to the vulnerable from his 13-square-meter container house. [Photo/for China Daily]
QINGDAO, Shandong - Farmer-cum-multimillionaire Wang Mingdian has given away more than 5 million yuan ($761,243) - nearly all of his earnings - to vulnerable groups during the past 18 years.
The 56-year-old, whose Wangzhengde Restaurant has proven tremendously successful, never keeps more than 20,000 yuan at a time for himself.
Although Wang has earned a fortune, he and his wife live in a 13-square-meter container house assembled atop the roof of his 120-sq-m diner.
"This home isn't nearly as pathetic as those in which many of the poor and people with disabilities live," he told China Daily.
The dwelling is divided into two "rooms". One is a sitting room containing a computer, several suitcases and a desk covered with more than 20 trophies he has received for his philanthropy. The bedroom contains a bed, a wall cabinet for blankets and a small table, atop which sits a 12-inch, black-and-white television set.
Wang recalled his first donation, which he made in 1993, when he gave 30,000 yuan to pave the muddy road leading to the village in which he grew up in Qingdao's Laoshan district.
"I didn't expect the residents would be so excited," he said. "Everyone came to praise and thank me."
Wang also recalled the first student he helped. He met the boy while buying fruit on a business trip in Juxian county in neighboring Rizhao city in 1995. He was bargaining for apples with a woman when her son excitedly came over, announcing he had been admitted to a good university.
"Forget it," she told him. "We can't afford it."
The son, Liu Lianke, immediately realized his family's difficulties and smiled bitterly.
"I know," he said. "I'm not going to attend the school. I just wanted to tell you to make you happy."
Wang was shocked and told them on the spot that he would pay the boy's tuition. He left the family with the 3,000 yuan he had brought for the trip and told Liu to contact him whenever he needed more money.
Liu has since completed his master's degree in law and returned to his hometown to work as a university instructor.
Liu and his wife visited Wang's home last year. The couple bowed to Wang and called him "father".
"My parents gave me the first half of my life, and my later life - especially with my lovely wife - was given to me by you," Liu told Wang.
Liu's story is but one of hundreds of touching tales of Wang's kindness.
He has for 16 years donated money to renovate primary schools in Laoshan, and in the province's Linyi and Weifang cities. He has sent gifts to students and teachers on every Children's Day (June 1) since 2001.
He has helped 740 students receive educations from primary school to university.
Wang also recalled helping raise the 170,000 yuan needed for an operation for a man who had been in a vegetative state for five years. Wang did not have enough to pay all the costs but enlisted assistance from a local charity. The man, who lives with his mother, wife and then 5-year-old son, can again walk and talk.
Wang came from a poor family of seven children.
"My mother always told me that if a person doesn't do good deeds, he will be killed by lightning or reincarnated as a bull forced to pull plows," he said.
"That's what made me start with philanthropy. But it's the feelings of pride, happiness and responsibility that made me continue."
The number of requests grew with his reputation and has become too great for him to fund with his small eatery.
So, he recently started the website wangmingdian.com and a bank account supervised by the Qingdao Charity Federation. The website received more than 20,000 yuan on its first day online.
Other local entrepreneurs have taken cues from Wang's work, as has his 29-year-old daughter, Wang Chunxia, who told China Daily she also donates when she can.
Wang said he feels sorry for his family, especially his wife.
"I've never taken her to Beijing. And her only trip to Shandong's capital Jinan was for medical treatment," he said.