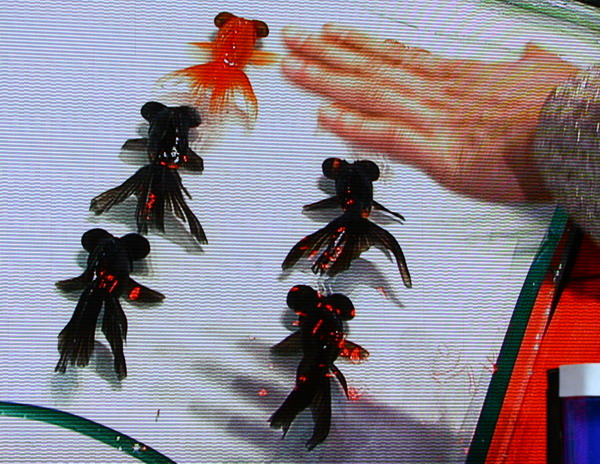 Goldfish swim in perfect unison, apparently following the command of magician Fu Yandong at the China Central Television New Year's Eve gala show in Beijing on Feb 2. [Photo/provided to China Daily] 
Activists blame lack of legislation for animal abuse. Li Jing, Hu Yongqi and Duan Yan in Beijing report.
Six goldfish swam in two straight lines, turned left and right, and paraded in a glass tank as a magician blew a whistle to "command" them.
Related readings:


Bunny abuse at temple fairs worries many 


53 animal parks ordered to stop abuse 


Rabbit abuse video highlights animal rights issue 
It had all the precision of a military drill. And it was a sensation, as expected, when China Central Television broadcast it live on Feb 2 as part of the Spring Festival gala show.
What was not expected, however, was that within days imitators of magician Fu Yandong posted their experiments with goldfish online. Public criticism surged as people speculated that these amateurs had mistreated the fish, with metal and magnets, instead of actually training them.
Animal protection groups fear that the "trick" endangers fish, and are demanding legislation to ban domestic animal abuse in China. On Monday, 53 groups issued a joint call to CCTV to drop similar acts on television shows.
CCTV agreed, and canceled Fu's scheduled appearance on Thursday night on its Lantern Festival show. However, Hunan Television booked a performance by Fu on its station.
The owner of the performing goldfish, Fu Yandong, is 35 and represents the fourth generation in a family of magicians. His father, Fu Tenglong, is considered the "King of Magic" in China.
The younger Fu would not reveal the secrets of his magic, but his agent, Liang Ming, said Fu's fish were not harmed and "are living happily".
"We've heard that some people tried to imitate our goldfish trick, but they did it the wrong way," Liang said. "Mr Fu just wants to tell those imitators to stop trying."
Song Dian, director in charge of Hunan TV's Lantern Festival show, declined to comment on Fu's performance on the Spring Festival show, but he promised: "In our show the act will be done only when it does not hurt the fish."
Song did not say how the safety of the fish would be secured.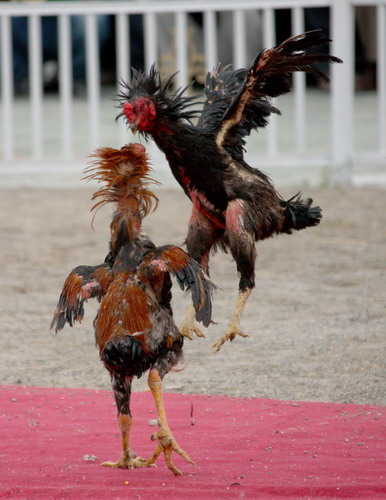 This file photo of 2010 shows a rooster fighting at a local sports games in Urumqi, capital of the Xinjiang Uygur autonomous region. [Photo/for China Daily]
The protectors
China has no laws to punish abuse of goldfish or other pets, livestock or experimental animals. The Law on the Protection of Wild Animals, passed in 1988, does not cover domestic animals.
That lack of legal protection makes it more important that the media be aware of the ethical treatment of animals, according to animal protection campaigners. The letter signed by the 53 organizations asked CCTV to have a third-party expert review performances to determine the risks of animal abuse, and then to ban any programs that may harm animals. At least, the groups said, broadcasters should put on a "do not imitate" label on the screen when broadcasting an animal act.
Even without a specific animal protection law, the goldfish trick still violates the fundamentals of regulations on animal welfare in China, said Qin Xiaona, director of Beijing-based Capital Animal Welfare Association.
She was referring to a ban on live animal shows in zoos issued last year by the Ministry of Housing and Urban-Rural Development. "That regulation actually suggests we humans should not base our entertainment on causing pain to animals," Qin said.
Liu Huili, a fellow researcher at Da'erwen Nature Association, a Beijing-based NGO that co-authored the letter, said animal performances in some nations are allowed only after experts confirm the performance is not harmful to animals.
"We should try to keep an eye on it," Liu said. "In large parties or ceremonies, people should be reminded of the idea that animals are friends of human beings and need to be protected."
The public
Public criticism of how animals are treated isn't new. At least three waves of it developed in the case of Gao and the 90-episode epic TV drama he directed, Romance of the Three Kingdoms.
In August 2009, Gao told Sanlian Life Week magazine that six horses died and eight were "driven crazy" during the filming of the war scenes. "Even horses couldn't bear it. You can imagine what kind of war scene it's like," he said.
Lu Di, founder of Beijing-based China Small Animal Protection Association, decried the way Gao and his team treated the horses. Gao then denied his earlier statement, saying, "They were all sick. We tried our best but couldn't save them."
Later, after the show was broadcast, the horses' injuries and deaths again were a hot topic. Gao Xixi said then that just one horse had died after catching a cold, according to Shanghai Morning Post.
In 2008, film director Yao Shougang described his filming the movie Dog King 15 years earlier in an interview with CCTV. "In order to make it more real," he said, "we tied a well-trained dog to a real bomb. It was blown to pieces in front of the camera. The soldier who spent years training the dog was crying loudly when he saw the film."
Then there are crush fetish videos in which animals are killed and the videos posted online. Angry Chinese Internet posters in October demanded to know the identity of a young woman in such a video with a rabbit. She later came forward and apologized.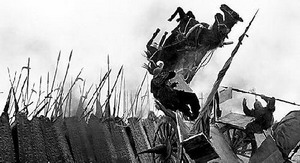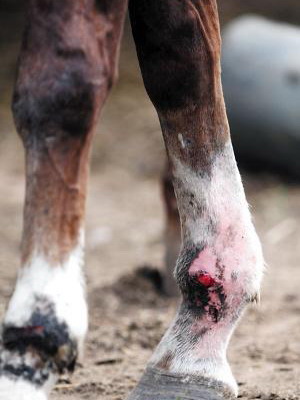 A horse (top) goes crazy while filming the TV drama Romance of the Three Kingdoms in 2009. Another horse's legs were injured during the shooting. [Photo/provided to China Daily]
The lobbyists
Without legal weapons, the animal protection campaigners admitted that when most animal abuse cases occur, they can resort to emotional appeals.

The country unveiled the draft of its first animal welfare legislation, the China Animal Protection Law, in September 2009. Drafted by a law professor from the Chinese Academy of Social Sciences, the proposed bill criminalizes abuse, abandonment of pets and inhumane slaughter of animals.
The document was hailed by Chinese animal lovers as a rescue for some miserable animals: stray cats and dogs that were beaten to death to curb the spread of rabies, and bears whose bile was extracted from their gall bladders for use in traditional Chinese medicine.
In early 2010, after public suggestions were solicited, the draft was renamed the Anti-Animal Cruelty Law. Clauses were added to, among other things, forbid animal abuse by starvation in zoos and animal slaughter in the presence of the underaged. The drafter said the document was submitted to the Standing Committee of the National People's Congress, the country's top legislative body.
However, the draft never made it into the formal legislation process, said Qin, from the Capital Animal Welfare Association. She fears the pressures from some business sectors may have blocked its progress.
"If the law gets passed, many industries would receive restrictions or limitations - for instance, the fur dealers and the catering businesses which serve animals other than livestock," Qin said.
Zhang Dan, from the China Animal Protection Media Salon, also thinks the lack of an animal protection law contributed to indifference by some media outlets in the face of animal abuse cases.
"Understanding of some basic concepts, such as animal welfare, abuse and protection, were still quite poor among general reporters when we started the project in 2009," said Zhang, who also works for the US-based Fortune Magazine's Beijing bureau.
"I was shocked to see a TV program in praise of a Chinese entrepreneur who runs a bear farm to extract bile in a really cruel way," she said, "and the program didn't even see the cruelty."
In what Zhang called a "self-education" process, the association tried to involve intellectuals, animal protection groups, journalists and the public to focus on both specific animal abuse cases and more general topics such as drafting laws.
The increased media attention has led to improved public awareness, Qin said. "I was glad to see the first about into the goldfish trick was actually coming from the public at some online forums.
"But to combat some conventional thinking among the public - that animals are not worth the care - we still have a long way to go. And the foremost thing is legislation."
The joint letter from the 53 animal protection groups also was sent to the State Administration of Radio, Film and Television and to the Ministry of Culture. The groups said on Thursday that they had not received an official response.
Li Li contributed to this story.
Abracadabra or torture?
Judging by Web postings, some viewers of the CCTV Spring Festival Gala quickly tried to replicate Fu Yandong's magic act with fish. But their "magic" involved what some critics call torture.
One anonymous netizen admitted as much.
In a detailed post on Tianya.cn, a popular online community, he said he first tried to make goldfish swallow metal beads, "but they spat them out immediately". Then he tried to super-glue metal plates to the fish's belly, but that proved too slippery.
Finally, he crammed magnets into the fish's mouths and sealed them with super glue. "After the glue dried up, the magnets wouldn't fall out," he wrote. He was going to film his "success" and post it online, but abandoned that idea. The two fish in his experiment died.
China Daily