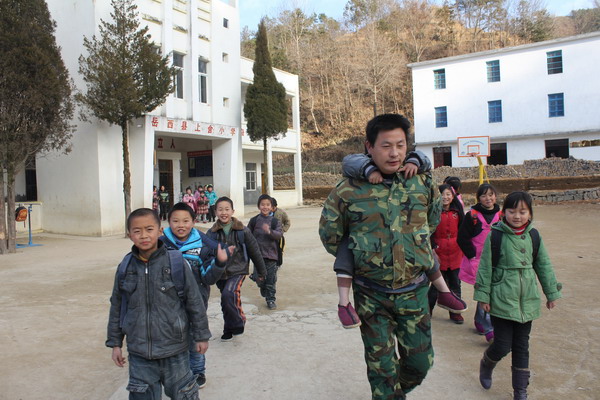 Maojianshan Left-behind Children Service Center founder Liu Lei, 38, carries a boy with a damaged leg to his center after school in October 2010. [Photo/provided to China Daily]
ANQING, Anhui - The 68 children whose laughter bounces off the Dabie Mountains in southeastern Anhui province are not orphans, but their parents are nowhere to be found.
Most of the mothers and fathers of the youngsters at the Maojianshan Left-behind Children Service Center are working in cities and have left their children in the care of their grandparents.
The center's "father" is 38-year-old Liu Lei, who founded the establishment in Yuexi county's Banshe village in 2005. He felt compelled to act when he discovered many children had become severely withdrawn and troubled in their parents' absence, he said.
More than 70 percent of the 649 left-behind children regularly visit the center on weekends and holidays.
As Liu tells his story, about 20 children read new comic books, while 19 others surf the Internet. The remaining 29 play Chinese chess, draw or play ping-pong in the recreation room.
Liu, who was born and raised in the area, previously worked as a soldier, transporting goods along the snowy highway linking the Tibet autonomous region and Sichuan province. It was dangerous work, and he had many brushes with death.
His health failed him five years into his military career, so he returned to his hometown in 1997. He took a job as a security guard in East China's Fujian province before becoming a bus driver and eventually returning home again.
While working as a substitute teacher, he became aware of the problems faced by many left-behind children.
"I found some kids had nothing to do after school," said Liu, who still wears an army uniform, which his wife has patched up three times.
"They spend hours in front of the TV, which is bad for their eyesight. Some have become extremely reticent and won't talk to anyone except for their grandparents."
He worries that if nothing changes, these children will be unable to interact with others.
Liu was then also responsible for more than 30 sick and disabled elderly people at the township's retirement home.
The father of an 8-year-old son realized caring for the young is essential - perhaps even more so than caring for the elderly.
So Liu donated his life savings of 20,000 yuan ($2,900), which he had earned in Fujian, to found the center.
Residents were initially suspicious Liu might try to profit from the operation. But he won their trust through his selfless care for the elderly over the years.
Liu used the money to rent two rooms in the retirement home. He bought about 4,000 books and collected about as many more from local primary schools to set up a reading room.
Liu said he was a bookworm in high school, but his family was too poor to buy books or send him to college. So, he went straight from high school to the military, where rigorous training afforded little reading time.
His son also enjoys reading, and Liu said that helped motivate him to provide books for other children. He spends from 5 pm to 8 pm every day reading to the kids.
"More knowledge means more opportunities for rural youth, so it's good for them to read," Liu said.
Liu has invested most of the family's income from running a grocery store - nearly 100,000 yuan in total - in providing after-school activities for the local youth.
The reading room now has nearly 12,000 titles, sports equipment and a computer lab.
"The children like surfing the Web but aren't allowed to use the Internet for more than two hours at a time," Liu said.
"The Internet should enlarge their visions of the world - not addict them."
Liu said he hopes the center's extracurricular activities enable the children to live as happily as those whose parents are around.
But many are deeply troubled, he has learned.
In 2008, Chu Lei, then aged 9, lost her father to illness. Her mother had to search for work in the cities to support the family and left the girl with her grandfather.
The changes in Chu's life were too extreme. She became withdrawn and would not speak to anyone.
Liu brought Chu to the center whenever she was not in school. He read to her, played games with her and told her stories about bravery. After 50 days, Chu broke her silence.
"Uncle Liu," she wailed. "I miss my dad!"
Liu said he has helped more than 500 children with similar issues over the past four years.
But limitations on his time and training have meant he cannot solve all of their problems. So he registered the website liushouertong.org.cn in 2007 to seek assistance, and attracted several psychological experts and volunteers.
The website has also enabled the children to talk to their parents via video chat sessions.