BEIJING - Air China, the national flag carrier, has high hopes of becoming one of the world's top five airlines in the years to come, its chairman, Kong Dong, said during an interview with China Daily.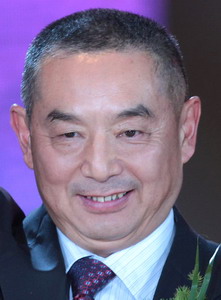 Kong Dong is the chairman of Air China. 
Related readings:


Air China to open 2nd Los Angeles-Beijing daily flight 


Air China to launch Dalian Airlines 


Air China receives Spanish tourism award 


Air China to buy 20 Airbus planes for about $4.5b 
With a fleet that is expected to nearly double in the coming five years - to more than 700 aircraft from the current 381 - Kong said Air China will then be the size of the world's current largest carrier, which was formed out of a merger between United Airlines and Continental Airlines.
"A strong player is one that foreign carriers will not find easy to knock down in the competition for China's international flight market," he said, adding that Air China is already the world's largest carrier in terms of market value. Statistics show it had a market capitalization of $20 billion last year.
But Kong said those numbers show that Air China is "big" but not necessarily "strong" - and it's strength he will be looking to build in the years to come.
Kong said that strength will be vital if the company is to hold off carriers from mature markets in Europe and North America that are looking to increase their presence in the emerging Asian market, where there has been rapid growth.
"If we cannot guard our share of this market and instead let them carve up the cake, then that will be because we are not strong," he said.
Industry observers have noted that China's major airlines have reaped enviable profits during the past two years thanks to a boom in domestic air traffic, but they have lamented the lack of progress in exploring international markets.
While not denying there have been difficulties, Kong said the situation is improving. In 2010, Air China performed well on international routes linking North America and Europe, and he said it will make more moves to develop more quickly in that market.
Strategic moves are now in the pipeline, including the setting up of more subsidiaries aimed at expanding and improving Air China's domestic network and building more capacity on international routes, he said.
One of the subsidiaries that will figure in the plans is Dalian Airlines, a regional carrier that will strengthen Air China's foothold in Northeast China.
Kong said the company also plans to enhance its share of the Shanghai market - an inevitable link in the international network of routes that has flights to 120 countries and regions - by integrating its capacity with Shenzhen Airlines in Shanghai.
By 2015, Air China will have a 25-percent share of the domestic air traffic market, he said, up from the current 21 percent.
"A good domestic network is what we depend on to compete in the international air transport market,"he said. "Without a sound network, you cannot handle international competition at all, and even domestic high-speed railways can deal a heavy blow to the airlines."