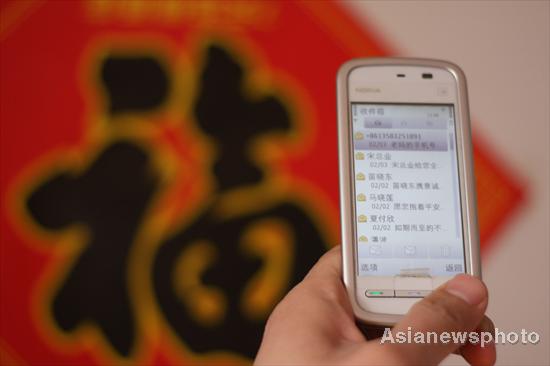 A cell phone with Spring Festival greeting messages is pictured in Qingdao, Shandong province in this Feb 5, 2011 file photo. [Photo/Asianewsphoto]
BEIJING - New Year greetings using mobile phone messages remained popular in China this year as Chinese mobile phone users sent 26 billion messages during the seven-day Spring Festival holiday ending on February 8, the country's top industrial regulator said Tuesday.
The figure sees a 13 percent increase over the same period last year, according to a statement posted on the website of the Ministry of Industry and Information Technology (MIIT).
Short messages have become one of the most popular ways to exchange greetings during the traditional Chinese New Year, a time for family reunions.
According to MIIT figures, 15.6 billion mobile phone messages were sent on the eve of the Spring Festival and during the Lunar New Year's Day, which fell on February 3 this year. The number sees an increase of 20 percent over the same period last year.
China reported 859 million mobile phone subscribers at the end of last year, which represents about 74.5 percent of total phone use. A total of 92.44 million new mobile phone users were registered last year.