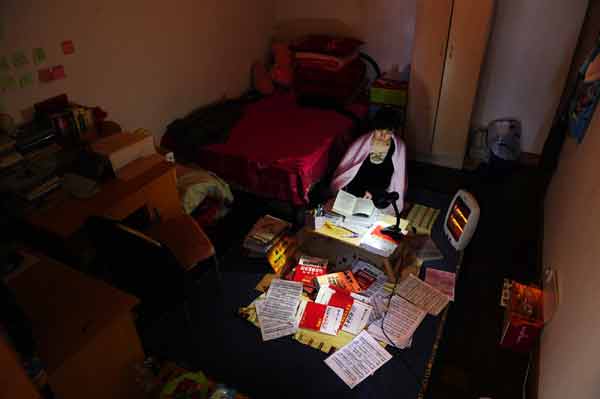 A graduate from Minzu University of China prepares for the national post-graduate examination in a crammed, rented, apartment in this file photo taken in April. YIN YAFEI / FOR CHINA DAILY
Degree holders unable to wean themselves off alma maters. Wang Yan reports in Beijing.
Get a college degree and you'll go far? Ye Dong made it to a 10-sq-m room, at 60 yuan ($9) a month, next door to his old college in Shaoguan, Guangdong province.
Now 23, Ye earned his diploma in June 2010. But he has barely left the campus. He still eats in the canteens and studies in the classrooms. Living close is convenient and familiar, he said.
Around almost every college and university in China are cheap apartments and bungalows for rent, where lots of graduates like Ye live, according to Hu Jiewang, a sociology professor at Jiaying University in Guangdong province. They live and look like enrolled students, but they aren't.
Hu published his first research paper on these graduates in 2003, naming them "school-drifters". It became a popular search keyword and triggered wide media coverage and further academic research.
"The number is increasing over the years," Hu said. "A simple reason is that each year the number of graduates rises, while the employment rate remains basically the same. A large portion of the unemployed become school-drifters. Some previously employed also come back after a short, unsatisfying, work experience."
In 2005, researcher Shi Xu of Nanjing University of Aeronautics and Astronautics said in a published paper that the number of school-drifters in China had reached 100,000. Hu said, "It's hard to calculate an accurate total", but he thinks the current number has far exceeded that.
A hollow feeling
Ye sees himself as a school-drifter. He said the real world is different from his ideal.
He landed a job as a production assistant in a local jewelry company in March last year but quit two months later. "The 2,400-yuan ($360) a month salary was high among my classmates, but the job was too tiring. I had only one day off every week and the working hours were too irregular," he said.
"Entering society made me feel hollow."
Not ready to take a job for now - he has some savings, loans from friends and money from an occasional job - Ye and the two school-drifters he lives with decided to try their luck in this year's post-graduate exam. Ye's goal is Jinan University in Guangzhou, where he failed to get in last year. "I want to be a teacher in the future, so I have to pursue higher degrees."
Hu said most of the school-drifters aim to enter grad school. Some hope to find a better job; some want to stay in big cities; and some are simply fearful of the intensely competitive job market.
Living on school resources, Hu said, "is a way of cutting living costs. But they do have some resource conflict with currently enrolled students."
Universities are enrolling more and more students, resulting in crowded campuses, full libraries and self-study classrooms, and dining halls as jammed as farmers markets. School-drifters add to that.
Hu also said, from his student management experience, that it's hard to trace school-drifters on campus. Universities are managed by departments, and it's unclear which departments should be responsible. "The fact is the schools now are pretty much neglecting this group," he said.
Why don't drifters return home? "From ancient times the Chinese have had the notion that 'going out' and 'going to colleges' were good. Anybody coming back home without achievements is a loser," Hu said.