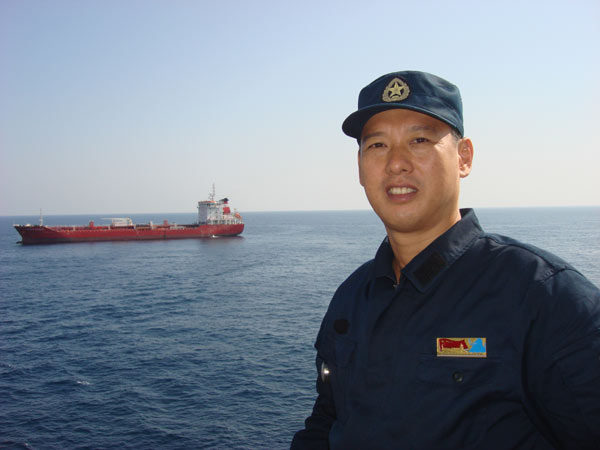 Shao Zheping, a 46-year-old captain from Fujian province, on deck on Nov 6, while working with the 6th Chinese naval escort flotilla in the Gulf of Aden, the world's most pirate-infested waters. PROVIDED TO CHINA DAILY

 

Navy helps keep ships safe in the Gulf of Aden
XIAMEN, Fujian - Three small speedboats carrying pirates with AK-47s and bazookas skimmed across the sea.
For Chinese merchant ships plowing the waves in the Gulf of Aden, it was another attempted hijacking in the world's most pirate-infested waters.
Quickly spotting the threat, a helicopter lifted off from a nearby frigate and fired warning shots at the pirates, who turned and fled at the sight of the oncoming warship.
"The Gulf of Aden used to be among the most peaceful and safest waters in the world, but now it is the most hostile region for sailors," said Shao Zheping, a 46-year-old captain from East China's Fujian province, who just finished working with the 6th Chinese naval escort flotilla for six months there.
Almost every week during his escort mission they would encounter several speedboats, each with five to seven young Somali men, trying to encircle a merchant ship and looking for a chance to throw rope ladders onto the deck.
"If they got onboard and grabbed one sailor as hostage, the whole ship would be hijacked," he said.
Before handing over the wheel to the next shift of sailors in January, the 6th naval flotilla escorted 615 ships - both domestic and foreign - sailing 608 nautical miles (1,126 kilometers) between the east entrance of the Gulf of Aden and the Bab-el-Mandeb Strait since last July.
He said the Chinese crews on merchant ships always waved national flags and banners saying "Salute to the motherland; Salute to the Chinese navy" when they were escorted by the warships Kunlunshan and Lanzhou.
"Years of sailing have made me understand how much the crew members miss their country and how grateful they are for getting protection and help from the motherland."
In 1989, when Shao first sailed through the Gulf of Aden heading to Northern Europe, he was impressed by its calm waves and the hundreds of dolphins jumping beside the ship, like they were escorting it into the Red Sea.
Those impressions changed with the explosion of pirating in the waters off Somalia.
In 2010, Somali pirates launched 445 attacks and took 1,181 sailors hostage, a dramatic increase from 188 hostages grabbed in 2006, according to official statistics.
China deployed two warships and a supply ship to the Gulf of Aden and the waters off Somalia for the first time in 2008 to protect commercial ships.
For the past two years, China has sent 6,000 sailors to the Gulf of Aden and escorted more than 3,100 ships.
"Of course we could ask foreign frigates to help (our merchant ships), and I believe they would help us like we escort foreign ships," said Shao, who is now head of the Navigation College of Jimei University in Xiamen, Fujian province.
"But it is still important to have our own naval task force, which means our country has become strong enough to protect its residents not only in its territory, but also in a far corner of the planet."
The 6th naval flotilla also escorted the 19 members of a Singapore crew who were finally bailed out four months after being taken hostage.
"They were sallow and emaciated with long, shaggy and unkempt hair from being locked in a cabin for such a long time," Shao said. "But they are lucky to be alive."
Being taken hostage by pirates is the greatest fear of sailors, according to the captain. He said that for Chinese sailors, nothing is more desired than being escorted by warships from their own country.
"Most pirates have to give up when they encounter battle-ready escort warships. They throw their weapons into the water to get rid of the evidence and flee, or use prepared fish on their boat to pretend they are fishermen," he said.
In addition to escort duties, the Chinese navy also provides other free services, including medical care, food and water supplies.
Shao said the navy once sent a doctor on a helicopter in the middle of the night to a merchant ship where a sailor was suffering from a kidney stone.
"This help was unthinkable before," he said. "Once a sailor got sick, he could only wait for better medical care in the next port."
In 1991, Shao, then the second mate of a merchant ship, sent a sick sailor to hospital when they berthed in Belgium.
He said the 30-year-old sailor burst into tears when Shao left him.
"I had to leave with the ship," he said. "But I can imagine how hard it is being left behind in a strange country - and he can barely speak English. The escort navy not only provides services but also warm comfort from the motherland."
China Daily
(China Daily 02/10/2011 page2)