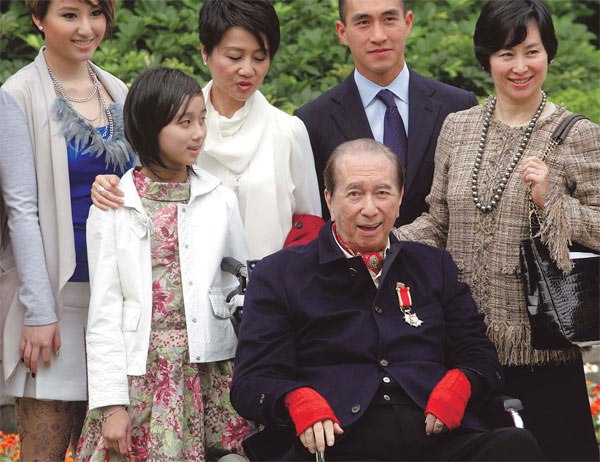 In less contentious times: Stanley Ho posed with his family on Nov 20, 2010, after he was granted the Grand Bauhinia Medal, the highest award under the Hong Kong honors system. PHOTOS PROVIDED TO CHINA DAILY
Greed and conspiracy provide a treasure trove of scandal. Timothy Chui in Hong Kong reports.
It's not easy being filthy rich and making sure your money goes where you want it to when you die, or, sometimes, while you are still breathing and alert.
Stanley Ho is a case in point. This week, he was still awaiting a formal proposal from family members to resolve a brawl over his assets, his lawyer said on Tuesday. Ho is 89, ailing and, according to Forbes magazine this year, worth HK$24.1 billion ($3.1 billion). He made his fortune as chairman of Macao's largest casino operator.
His legal action against his family - one that involves three surviving wives and 16 surviving children - is for control of the bulk of his empire, according to his lawyer, Gordan Oldham.
Just last month, the tycoon appealed for family unity and said he was dropping the lawsuit against his family for what he called "improper and/or illegal" seizure of his assets to give them a chance to return them voluntarily.
The asset transfers have dramatically whittled down the bulk of Ho's shares to virtually nothing in SJM Holdings, his primary holding company that he operated for decades.
The company runs 20 of the 33 casinos in Macao, where gambling revenue increased 58 percent to $23.5 billion in 2010.
"Nowadays, people are better educated and the new generation may have their own legal advisers and power struggles ensue," particularity in families that lead big business empires, said Billy Ma, a seasoned lawyer specializing in inheritance matters. "It's human nature. No one will turn away the right to receive more."
Battle of the wills
Then there's the cautionary tale - still developing - of eccentric, pig-tailed tycoon Nina Wang. She may have given her feng shui lover a small fortune during their 15-year relationship, but Hong Kong's judiciary ruled that she, 23 years his senior, never planned to leave him her entire estate.
In February 2010, the High Court ruled that a 2006 will produced by Tony Chan, which named him the sole beneficiary, was a forgery. Justice Johnson Lam Man-hon awarded the money to Wang's Chinachem Charitable Foundation, which was named in a 2002 will.
Facing charges of forgery while possibly owing the taxman some HK$300 million (US$38.5 million), Chan launched an appeal in January 2011 to overturn the ruling on the basis of true love.
The two were seen in videos shown in court referring to each other by pet names and trading playful barbs, which for Wang was not necessarily out of the ordinary.
Succumbing to cancer in April 2007, Wang, 69, was herself a colorful caveat among Hong Kong's tycoons. Nicknamed "Little Sweetie" and usually garbed in miniskirts well into her later years, she was known for making public remarks in a manner more akin to a kindergarten teacher than "chairlady" of a major multinational company.
The fortune, estimated at HK$100 billion, had already been contested in court eight years prior, after her husband, Teddy Wang, was declared legally dead following his kidnapping nine years beforehand.