People relish opportunity to discuss literature and the arts as well as hot social, political topics. Jiang Xueqing in Beijing and Zhang Yuchen in Guangzhou report.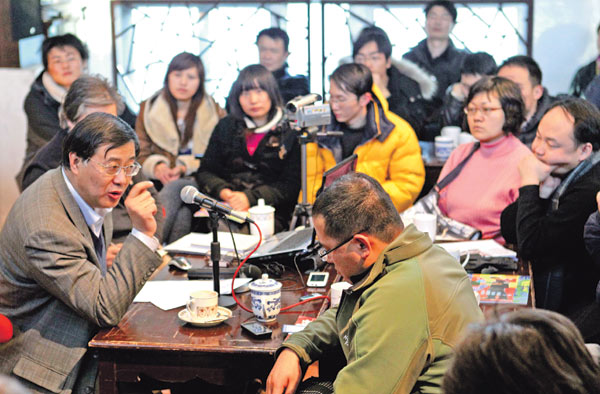 Wang Haiguang, a professor from the Party School of the Central Committee of the Communist Party of China, lectures on the Party's history at Sanwei Bookstore. Sanwei is believed to be one of the first bookstore salons in Beijing. YANG ZHIZHONG / CHINA DAILY 
Four hours before a lecture and a question-and-answer session with folk singer and lyricist Zhou Yunpeng, the audience started to arrive at One Way Street Library, an independent bookstore in Chaoyang district, Beijing. Most of them were college and graduate students who can afford the long wait on a Friday afternoon.
The event, an intellectual salon scheduled for 7 pm, drew devoted fans in their 20s and early 30s from all corners of the city.
By 5 pm, the second floor of the bookstore, which can hold 200 people at most, was almost packed. Latecomers stood in the aisle for two hours to listen to the talks, their view blocked by the audience in front.
"I have a strange feeling in this place," said Zhao Ying, a 33-year-old book editor. "Here I can feel passion for life. It leads me away from the mundane, day-to-day life. I'm inspired by the other people around me to absorb more information and follow the trend of Chinese society and culture without even realizing it. We are engaged in the same pursuit."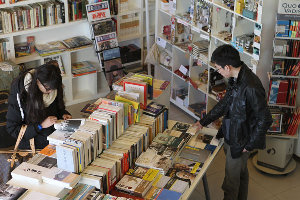 Young adults enjoy a program on art given (above) by Chang Ta-chun, a Taiwan writer, and select books (left) at One Way Street Library in Beijing in early January. Attending intellectual salons has become a popular way for people to explore new ideas and discuss them freely. PHOTOS BY WANG JING
Since starting in March 2006, One Way Street Library has organized more than 300 free, public salons - a fashionable assemblage of literary figures, artists, statesmen, and political and social researchers. The bookstore has invited influential intellectuals as guest speakers, including painter and art critic Chen Danqing, writer Yu Hua, film director Jia Zhangke, Taiwan playwright and theater director Stan Lai and Hong Kong lyricist Albert Leung.
"We hope their insights will enlighten the audience at various degrees and influence their way of thinking," said Xu Zhiyuan, chief writer of Shanghai-based Life Magazine who founded One Way Street Library with friends in 2005.
From the beginning, they held a salon almost every week in the hope of building a platform for the public to socialize and a space providing room for thoughts and cultural life. Only a few bookstores held salons then, said salon planner and organizer Wu Yanping, but they have become popular in the past two years. Today, people can find salons at various places in Beijing, Shanghai, Guangzhou and other big cities.
Experts familiar with the bookstore industry said the popularization of salons reflects the development of China's civil society and will help promote its further advancement.
For example, salons held by non-governmental organizations fill certain needs that are not met elsewhere and provide a channel for citizens to help each other develop.
"After the middle class have adequate food and clothing, they begin to ask: What's next?" said Qin Liwen, director of the news center of the Modern Media Group, which publishes 11 magazines and newspapers across the country.
"They start seeking connections between one another and look forward to realizing their personal values. By providing such a platform, salons become a link for the middle class who live in the city. They also help to satisfy young people's need for intellectual communication and socialization."
Qin believes salons will further the development of civil society by encouraging people to participate in discussions on public affairs and thus help build the basis for modern citizenship. A salon "encourages people to think independently. That's more important than anything else."
Right atmosphere
In Guangzhou alone, three or four salons are held every week. "The merit of gathering is indeed sharing," said Tao Qing, the hostess of weekend salons at Tang Ning Bookstore, the cornerstone of bookstore salons in Guangzhou. "We are abundant with thoughts and understandings. What we need more is a kind of atmosphere."
Li Shiqiang said the atmosphere was not entirely receptive in 1988 when he began to develop salons at Beijing's Sanwei Bookstore, which he owns with his wife, Liu Yuansheng. However, he and his wife were able to invite writers to sign and sell their latest books, providing readers with a chance to talk to writers directly, a limited form of salon.
Sanwei Bookstore, which is situated across Chang'an Avenue from the Cultural Palace of Nationalities, is believed to be the first bookshop in Beijing to organize salons. Li and Liu regard their bookstore as a public social platform for people to meditate and communicate with one another.
"Salons bring people together for substantial communication on random topics without restraint," Li said. "With a special interactive atmosphere, it infiltrates people's mind and spirit; filters vanity, fickleness and ignorance; and helps us enhance our culture, manners and temperament."
It was not until 1993 that salons turned into a formal lecture style. The first guest speakers included some of the most prestigious intellectuals at the time, such as Guo Daohui, consultant of the Jurisprudence Research Association of the China Law Society, and Ma Licheng, political commentator and former senior editor of the People's Daily's commentary page.
Back then, salons were held intermittently whenever a speaker came up with a topic. By 2003, Li and Liu began to hold salons at the bookstore every two weeks; by 2006, every week. Li said it is rare nowadays that he feels his salon is under special scrutiny.
Salons are more popular than before because the wave of Internet development has cultivated a habit among individuals to make their own voices heard and to respond to one another, said Qin at the Modern Media Group.
"As a result, people realized their opinions matter and the basis for public opinion started to form," she said.
More than books
The popularization of salon culture is a natural result of China's reform and opening-up, Li said. After China started economic reform in 1978, the improvement of material life gradually led to higher demands for intellectual life. People became increasingly desperate for exchanging thoughts and ideas, especially in big cities. They are no longer satisfied to see bookstores just as places to buy books, Li said; what they really need is a place for communication after reading.
While most salons focus on literature and arts, Sanwei Bookstore's salons are among the few where hot social and political topics are discussed, said Zhao Tianxin, who has attended salons at several places in Beijing. This feature inspired Li and Liu to keep running the bookstore in spite of financial losses and Liu's health problems.
"We stick to what we believe is justified and worthwhile to do," Li said.
The audience repeatedly asked them: What was the use of holding salons? Li replied that it is useless in terms of making changes to the society, but speaking from a personal angle, salons can enhance people's ideas and attitudes toward life.
"Rather than trying to change the others, we should change ourselves first," he said.
"Our generation (who experienced the "cultural revolution", 1966-76) lived a rough and muddling life when we were young," he said. "My wife and I want to spend the rest of our days pursuing a life with dignity, seeking the true meaning of life and fulfilling our social responsibilities."
About 15 people have volunteered to provide services to the bookstore for free. They pick up guest speakers, update the schedule for salons online, and type out the presentations of previous salons to post on the Internet. Li referred to them as "real intellectuals who have a sense of social responsibility and care for the public".
"We hold salons because it is the right thing to do, not because we think it will succeed," said Xu Zhiyuan of One Way Street Library.
For him, the effect of salons cannot be seen immediately for they will influence the audience unconsciously in unexpected ways.
"While you are talking to me, a line of a sentence you read 10 years ago might suddenly jump out of your mind. It happens beyond your expectations; so does life," he said. "If I spend two hours in a pleasant inner world that drives my thinking, that day is great enough for me. I don't have to make changes during the remaining 22 hours to make a perfect day."
(China Daily 02/09/2011 page1)