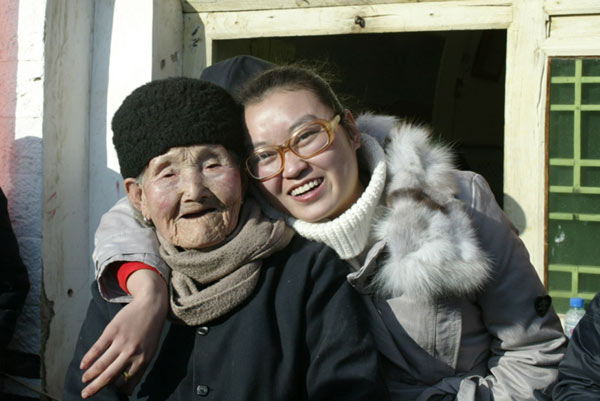 Bai Yitong, then a 19-year-old sophomore, smiles with an old villager on Jan 14, 2009 after she was elected head of Gaojie village, in Qingjian county, Shaanxi province. BAI YANLIN / FOR CHINA DAILY
XI'AN - For the village of Gaojie, good things have come in a young package.
Unable to pick a new leader from a crop of older candidates, the villagers roundly threw their support behind a 19-year-old sophomore, who became the youngest and most educated leader the remote village has ever had.
"The villagers hoped to have a young and more educated person lead them into modern production and living," said Bai Yitong, who has now served two years as head of Gaojie village, in Qingjian county, Shaanxi province.
"I have fulfilled some of the promises I made in my campaign speech and I have another year to go, which will give me time to fulfill my other promises," Bai told China Daily.
Over the past two years, Bai has joined her villagers building a 48-kilometer road, 12 baking barns for jujube processing, 13 greenhouses for vegetable growing, two dams for water storage and a breeding base for some 100 ostriches.
"The young girl also facilitated the restoration of our cultural theater stage, originally built in the Ming Dynasty (1368-1644), and built a new square in front of the stage for our villagers' entertainment," said Bai Fuzhou, director of Gaojie village election committee.
According to him, the election for the new village director failed four times in November 2008 as none of the candidates were able to win enough votes - presumably because most of the villagers did not believe in the leadership abilities of the candidates, who had received little education.
Then he and his election committee got a call from Bai Yitong, saying she was interested in competing for the position.
Her father, who grew up in the village, learned of the election impasse during a trip back to the village in November 2008 and encouraged his daughter to run.
"My father believed I had the potential."
Then a sophomore at a vocational school in Ankang, a city in southern Shaanxi province, Bai was considering her career choices as she had only one year left before graduation.
Having been born into a well-off family - her father was among the richest businessmen in the county - she could have led a comfortable life even without a job.
But the entrepreneurial spirit her father had instilled in her since early childhood urged her to accept challenges instead of simply enjoying life, Bai said.
Partly thanks to her family background, Bai overwhelmingly won the election, taking 450 of 461 votes, because most villagers believed she would not be tempted by corruption, as others might be when living on the village leader's meager annual salary of 30,000 yuan ($4,500). They also thought she might be able to bring investment to the village thanks to her family's business network.
And they were right.
The village of 1,227 people has 277 hectares of farmland, of which 80 percent are planted with jujube trees. But earnings from jujube production provided only about 100 yuan per capita in 2008.
Bai decided the village would build a road around the mountain to export jujubes, and new jujube-processing houses would give villagers more profits.
Bai went to her father and uncle for help and got a 1-million-yuan donation for road construction and 500,000 yuan in investment for the processing houses.
"There is no doubt that her family gave her great support for her success, while the girl's effort is also undeniable," said Zhang Baotong, an economic and social development expert with the Shaanxi provincial academy of social sciences.
According to Bai, being a village leader involves more than simply solving investment problems.
She also had to adapt to rural life in the village, which she had left when she was only six months old.
"There was no water supply and I had to fetch water from a well a hundred meters away from my house. There was no bathroom and I had to go to my parents' home in the urban center of the county (40 km away) for a bath when I had time," Bai said.
And some old villagers still believed a woman's duties should be bound within the family.
"They didn't trust me at first," Bai said. "Working as a village head means you have to think what the villagers think," Bai said.
To win their trust, Bai worked alongside fellow villagers in the construction of the road, which was completed in 2010.
"Every evening when I went back my house, I was covered in dirt and felt like a terracotta warrior that had just been unearthed," Bai recalled with a smile.
After two years of working in the village, Bai plans to stand for re-election in 2012 because, as she said, "I'm more ready than ever for the position."
China Daily
(China Daily 02/09/2011 page2)