Four evacuation flights planned as chaos in Egypt continues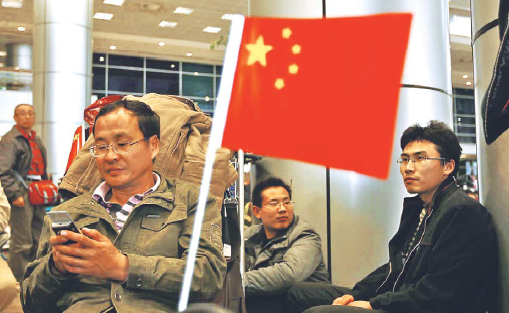 Chinese passengers wait for flights at Cairo airport. Planes were sent to Egypt to pick up stranded Chinese citizens as the protests entered a seventh day in the African country. [Photo/Xinhua]
Beijing - China planned to send at least four planes by Tuesday to fly back Chinese travelers stranded in Cairo as anti-government protests continued in Egypt.
Air China and Hainan Airlines each sent a plane to Cairo to evacuate Chinese travelers on Monday morning. Each plane can carry about 250 to 280 passengers. It is believed that there are more than 500 Chinese citizens at the airport in Cairo while about 2,000 Chinese travelers are in Egypt.
On Tuesday, Air China will dispatch two more planes to Cairo.
Related readings:


 2 more planes to bring back travellers in Egypt

 Chinese tourists came back from Egypt


 Upgraded travel alert for Egypt


 Mubarak asks new PM to boost reform, anti-corruption
The first two planes took off from Urumqi, in China's northwestern Xinjiang Uygur autonomous region, and are expected to return to China on Tuesday.
Hainan Airlines said that its twice weekly flight from Beijing to Cairo was operating as scheduled but Egypt Air has canceled regular flights to China since Sunday.
The last time China sent an aircraft to bring its nationals home was in June when nine planes brought almost 1,300 Chinese citizens back from Kyrgyzstan which was hit by riots.
Xu Zhiqian, counselor at the Chinese embassy in Cairo, said there are about 2,000 Chinese tourists in Egypt. Stranded Chinese passengers at Cairo airport were attended to by the embassy and provided with food and water.
The situation in Cairo was still "tense", and some Chinese travelers had stayed in the airport for up to two days, the counselor told Phoenix TV over the weekend.
Zhang Jianyu, an employee of CETC International Co Ltd, a Chinese electronics and information company, arrived in Cairo about a month ago but his stay in the Egyptian capital is coming to an end as he and five colleagues are going to take a charted flight home on Wednesday, the Chinese New Year's eve.
Though not directly endangered by the riots, he has witnessed the chaos of a turbulent week.
"I have seen tanks and armored vehicles near my residence," Zhang, who lives and works in Maadi, a wealthy suburb of Cairo, told China Daily.
"A few days ago, I went to the telecom operator to pay telephone charges for our company and I saw a nearby police station was burnt down.
"The telecom operator's office was smashed, too," he added. "Maybe it is because people are angry that their mobile phones and short message services were blocked."
Foreign Ministry spokesman Hong Lei said on Sunday that China hoped Egypt could quickly restore social stability and order.
"Egypt is a friendly country with China, and we hope Egypt can restore social stability and order at an early date," he said.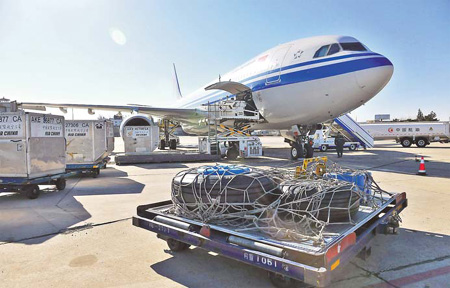 An Air China aircraft prepares to take off from Beijing for Cairo on Monday. [Wang Zemin / for China Daily]
Countries including the United Kingdom, the United States, Canada, and Switzerland have either issued travel warnings or dispatched chartered planes to return citizens.
Nearly 1,200 Turkish citizens have flown out of Egypt on charter flights, according to the Xinhua News Agency. Despite the appointment of a vice-president and a new prime minister, anti-government protests continued in central Cairo, the agency said.
Massive protests and violent clashes between demonstrators and security forces have rocked the Arab nation for a week, with official figures showing that around 100 people had been killed and thousands injured.
The protestors' demands included an end to Egyptian President Hosni Mubarak's 30-year rule, a change to the country's political system and effective efforts to fight corruption and improve the people's wellbeing.
On Monday, Mubarak appointed a new interior minister as part of a revamped cabinet designed to defuse the most serious challenge to his rule.
General Mahmoud Wagdy, previously head of Cairo's criminal investigation department, was named as the new interior minister, sources said, according to Reuters.
But it was not immediately clear if the line-up, which now includes three former senior officers, and promises of reform would be enough to mollify opposition groups and protesters.
As the unprecedented unrest in the Arab world's most populous nation entered a seventh day, thousands of protesters poured into Cairo's Tahrir Square singing Egypt's national anthem.
Soldiers looked on without taking action.
Share prices fell across Asia on Monday and Brent oil hit a 28-month high. Egypt's financial markets and banks were closed for the second day.
Global shares continued to slide on Monday while Europe's benchmark Brent crude was just short of $100 a barrel on fears the unrest could spread among regional oil-producing nations.
Moody's downgraded Egypt to Ba2 with a negative outlook on the back of the protests.
"Whilst Egypt's importance to the global economy is limited, its importance to the transportation of oil is huge," said Jonathan Sudaria at London Capital Group.
Zhou Wa and agencies contributed to this story.