Best friend of deceased man opens arms to mom and dad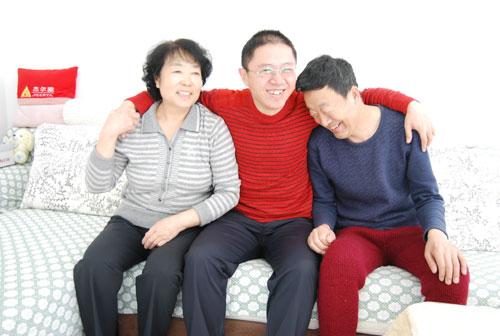 Xu Gang hugs the parents of Lu Kai, a close friend who died in an accident in 2003. Provided to China Daily
SIPING, Jilin - Each festival of the year, Xu Gang, along with his wife and their twins, get together to celebrate with their children's grandparents - all six of them.
That's because apart from the couples' four parents, Xu also invites the parents of his deceased best friend, Lu Kai.
"Back in our school days in Lishu county, I was a boarding student as my home was far away, and Lu Kai lived in the town where the school was," Xu said. "I always visited Lu's family and stayed with them for weekends. They treated me like their own child."
Related readings:


 1/4 still in touch with childhood best friend


 80% of people lack real friends: survey


 Do you contact your high-school friends now?


 Who is your best friend?
Xu and Lu, both from Siping, Northeast China's Jilin province, were high school classmates.
When Lu died in an accident in 2003, leaving his parents childless, Xu began treating his friend's parents like his own.
"Deep down in my heart, I promised Lu Kai I would look after his parents. I wanted him to rest in peace," said Xu, 35, a doctor at a local hospital.
Thanks to Xu's thoughtful company, the old couple was able to get over the worst part of losing their son.
Then when a new housing community in Siping was completed, Xu bought three apartments in one building and helped the couple move into the most spacious one.
Xu's parents and parents-in-law moved into the other two.
A new family of 10 came into being.
"My wife and our parents support me. The whole family loves each other," Xu said.
In the spring of 2009, Lu's father was diagnosed with lung cancer.
Xu kept the disease secret and went to Beijing to consult friends and cancer experts. He also sent Lu's parents for a tour in Hainan province.
After the journey, Xu admitted Lu's father into the hospital where he works to start his therapy.
Xu and his wife took turns caring for Lu's father in the hospital, and thankfully he recovered a few months later.
"When it was over, I felt released and comforted," Xu recalled.
In fact, Xu said, he and his wife spend more time with Lu's parents than with their own.
"We don't want them to be alone, especially on festivals when family gatherings can easily remind them of their loss," Xu said. "We'd rather create a distraction to divert their attention."
Xu's twins are now 10 years old and call Lu's parents "grandpa" and "grandma". They never ask why they have six grandparents instead of four.
"I don't think we parents have to lecture kids about morality. They are always learning by watching your moves and listening to your words," Xu said. "My twins know how to share joy and care about other family members."
For the upcoming Spring Festival, Xu said the 10 of them will dine together as they have for years.
"I do what I should, to make them feel loved," Xu said.