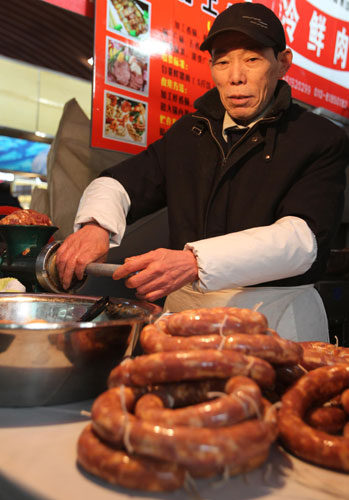 Xu Xianbing's custom-made sausages have become a much sought-after Spring Festival gift in the capital. Here he prepares sausages for customers on Tuesday in a vegetable market in downtown Beijing. [Photo/China Daily]
BEIJING - It seems train tickets are not the most hard-to-get item before Spring Festival arrives in the capital. That honor goes to the custom-made sausages available only in a single vegetable market in downtown Beijing.
Xu Xianbing, a 64-year-old sausage maker from Jiangsu's capital city Nanjing, has become one of the most sought-after people in the month leading up to the Spring Festival as customers from across the city throng to the market as early as 7 am to ensure they can get their sausage made the same day. Arriving later than 8:30 am means another day of waiting in line.
At 7:30 am, Xu's five-square-meter booth is already stacked with pork bought from nearby butchers, each package marked with the pork's weight, selling time and buyer's name so that when Xu arrives he will be able to tell which one to use first.
Related readings:


 King-sized sausage tests your stomach


 Good mix of local produce and imported seasonings


 Make it a family affair with Hunan specialties
Xu has been processing sausage in the Anshuncheng vegetable market near Beijing's Xuanwumen station for eight years.
He runs the business - processing fresh pork into Chinese sausage for 7.20 yuan ($1.08) per kg - five months a year from late October to March, because the half-finished sausage needs dry, cold air to properly cure.
When Xu finally arrives at the market at 8:30 am, anxious buyers quiet down and make way for him. But Xu, dressed in a checkered overcoat and a wool cap, looks undisturbed.
It is not until the customers circle around trying to slip their pork over to Xu that the sausage maker makes himself heard in a low voice.
"No pushing. If you lose the note with the selling time, you lose your chance today," he said.
Then with no rush, Xu washes his hands, cleans the table with hot water, rearranges the plastic bags in a row, and tells some late buyers to come and pick up their sausages after 4 pm.
Then he begins with the first portion - washes the pork, puts it on the chopping block, peels the skin off skillfully and slices it into cubes approximately half the size of a human fist.
After that, Xu throws the cuts into a meat chopper before adding various flavoring into the pork paste and blending them.
Meanwhile, Xu bathes hundreds of air-dried sausage casings in water. He attaches them to the opening of a mincing machine, which packs the ground and flavored pork into the casings.
In this way, Xu processes around 25 kg of pork in one hour. Xu said he can process as much as 250 kg a day.
"Xu's recipe has a better taste than those in the supermarket," said Li Qian, a Beijing buyer who has been sticking to the sausage as her special purchases for Spring Festival for eight years.
"Above all, you can watch him making the sausage. The process is sanitary, and you do not have to worry about shortage in weight," Li said.
She pays some 2,700 yuan each year for the sausage, most of which she sends out as festival gifts to friends.
"Nowadays people are rich enough to buy anything they need from supermarkets one step away from home, so I have to find gifts representing my special wishes like this custom-made sausage," she said.
Spring Festival is the peak season for Chinese people to call on relatives and friends, and they usually bring each other presents.
The sausage Xu makes, known as lachang in Chinese, is a kind of dried, hard sausage used broadly in dishes in South China, and is also popular as festival gifts.
The sausage has to dehydrate in a dry and cool place for five to seven days, then you can prepare it in a steamer for 20 to 30 minutes before serving it. Uncooked lachang remains fresh for 12 months if stored in the refrigerator.
Many people in Xu's hometown keep the tradition of cooking lachang at home. But Xu modified the flavor when he came to Beijing in 1997.
"People from all around China live here in Beijing, so I have to develop various flavors to cater to their varied tastes," Xu said.
He prepared spicy sausage for people from Northeast China and pungent flavor for people from Southwest China's Sichuan province. He has also developed cumin and sweet flavors.
When a consumer once wanted Xu to cook sausage with beer and pine nuts, Xu met his demand with ease.
"Of all the procedures when you make lachang, seasoning is of crucial importance," he said.
Xu learned to "perform magic" with fresh pork thanks to two decades working in a sausage plant. Following his retirement, Xu went to Beijing processing sausage in vegetable markets to put his four children through college.
But now that his children have become professionals, including a teacher and doctor, Xu is planning to retire, partly because he doesn't have to worry about income and partly because he cannot find a successor.
"My children have all grown up and have decent jobs. They don't have to take over my business," he said proudly.